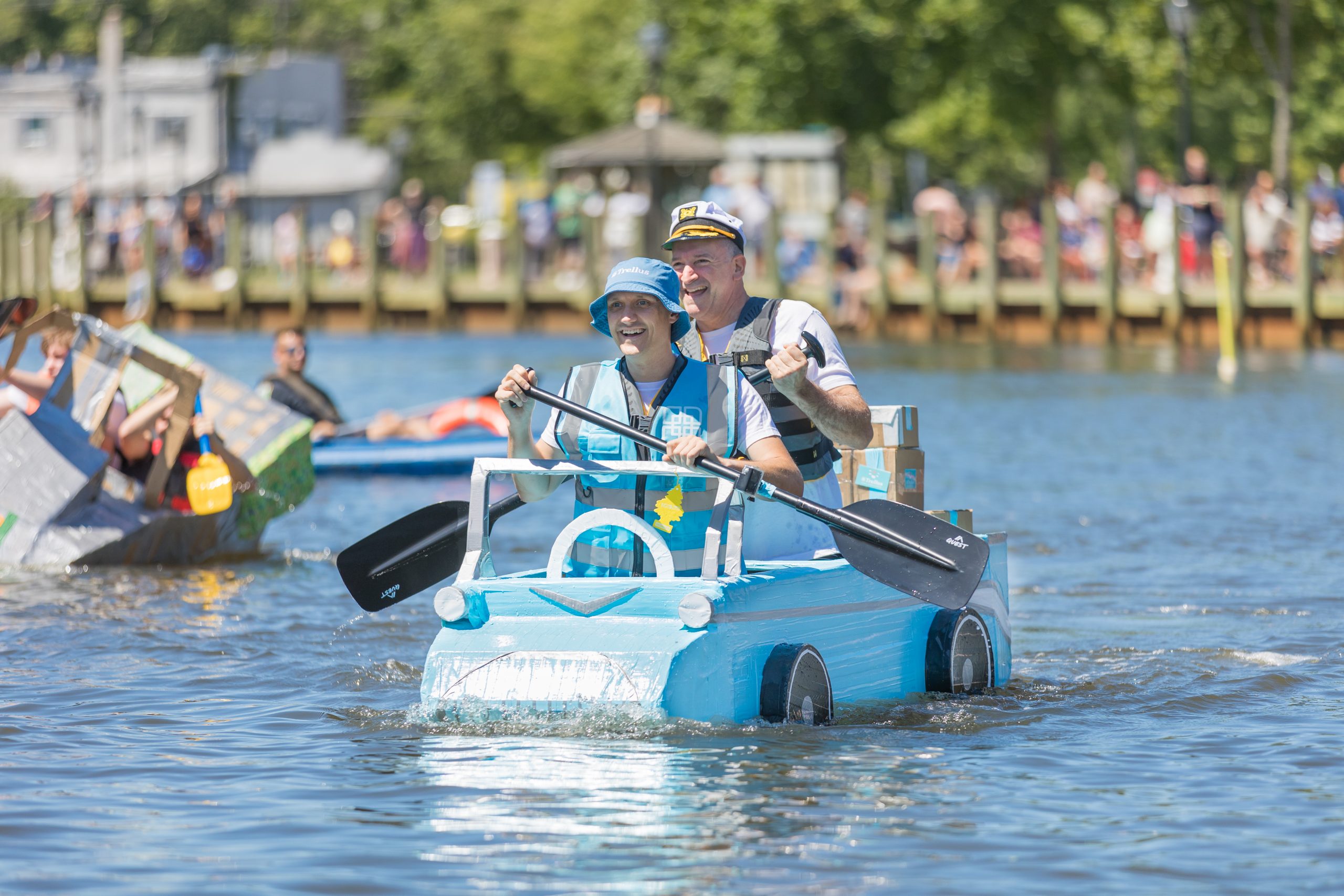 Trellus Co-founders CEO Adam Haber and CTO JR Jensen on the maiden voyage of the SS Locally Delivered, built for the 2022 Riverhead Cardboard Boat Race.
(PHOTOS: Maria Rose Photography)
An opportunity for Trellus to be a Platinum Sponsor of the annual Riverhead Cardboard Boat Race? Sign us up!
An included entry into the race, so we can build our own boat? 'Check' and 'check'!
The chance to make two of our Co-founders wear silly hats and paddle this vessel down the Peconic River? A resounding 'yes!'
On Saturday, August 13, Trellus CEO Adam "The Skipper" Haber and his First Mate, Co-founder and CTO JR "Gilligan" Jensen, set sail in the SS Locally Delivered, fashioned after a 1957 Chevy convertible. JR, the mastermind behind the design, put his skills as an Eagle Scout to the test. For industrial-strength cardboard, we tapped one of our local merchant partners, Men on the Move, who happily obliged. The cardboard was securely waterproofed with Trellus blue tape (or as close as we could get to the color). After a brief entanglement with some other vessels at the buoy, our team broke free from the pack and paddled quickly back to the dock.
Before and after the race, event-goers stopped by our tent to admire the style of the SS Locally Delivered, complete with a Little Tree air freshener affixed above the steering wheel and Trellus packages secured to the back bumper. From top to bottom, this boat was an homage to our team of 70+ dedicated drivers who deliver goods from small businesses to customers seven days a week.
The SS Locally Delivered didn't win any awards that day, as the race was judged on overall time and the fan favorites were abundant. We were out-paced by a floating dinosaur (whose head cleverly came off for race time) and outshone in creativity by a hamster wheel (seriously… check out our Instagram Reel to see that one). But at the end of the day, we kept our pride afloat by rounding the buoy and finishing the race. It was "mission accomplished" for a fun event in the Riverhead community, where Trellus wants to partner with more local small businesses.
Here's the scoop, 'mateys': In our experience, "Shop Local" is often a feel-good phrase that sinks like a stone when there's no real momentum behind it. Trellus continues to drive forward our mission to help small businesses compete with e-commerce giants by providing fast and reliable on-demand local delivery services. We understand that individually owned small businesses create vibrant communities, like Riverhead, and our promise is to support these businesses by keeping jobs, sales, and services local.
A majority of the 260+ small businesses using Trellus Same-Day Local Delivery are based in Nassau County, where Trellus is headquartered. At this stage in our growth, we have the driver network to serve customers all the way east to Montauk, including the Hamptons, and all the way back west to the Queens border. As summer subsides and beachgoers return to their routines, customers will long for their favorite local businesses in some of Suffolk County's most celebrated communities.
Inspired by our SS Locally Delivered '57 Chevy, our team at Trellus says, "Keep the good vibes of summer rollin' into fall and beyond." We're here to serve small businesses and their busy customers, delivering goods and services with the seamless, easy-to-use technology everyone expects.
So climb aboard and look to the horizon of e-commerce with Trellus Same-Day Local Delivery. Explore our Local Marketplace to discover Long Island small businesses near you offering local delivery. And if you're a small business owner, learn more about Trellus for businesses or call 1.833.LocalLi to ask how Trellus can help.