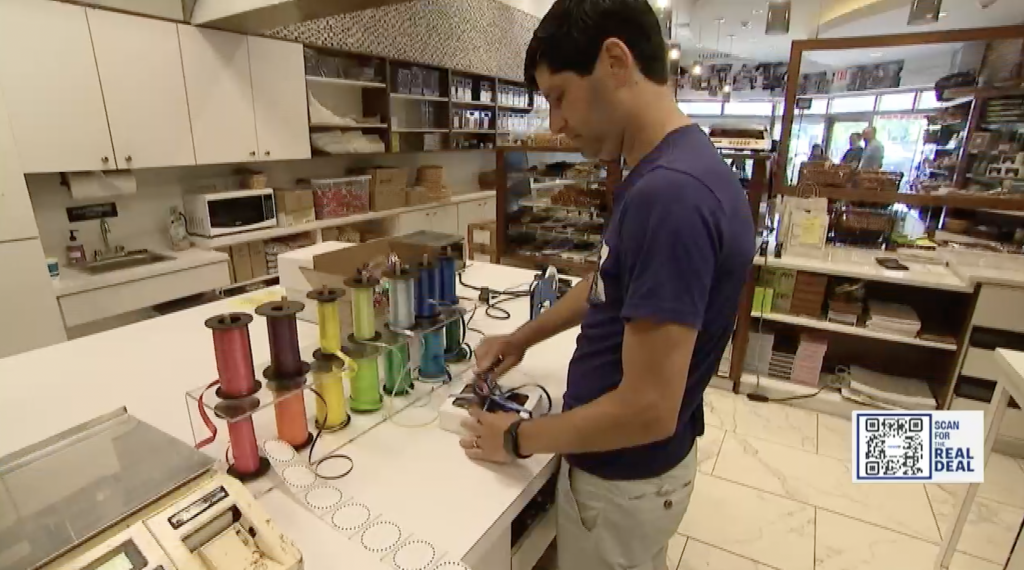 Jeff Lazar packages a sweet treat at Lazar's Chocolate, a fourth-generation chocolatier in Greenvale, NY. Customers can order from Lazar's and receive same-day delivery by Trellus — a Shop Local solution and Amazon alternative. [CREDIT: News 12 Long Island]
With Amazon on track to post record profits for its 2023 Prime Day, News 12 Long Island took a different approach to covering the event. True to the News 12 motto "Local Matters," Consumer Producer Angela Cascarano reached out to our team at Trellus Same-Day Local Delivery. She wanted to find out how local businesses were responding to Prime Day, and discovered Trellus by searching on the internet for an Amazon alternative.
Trellus coordinated visits to two of our merchant partners who have been delivering with us from our start in early 2021, Lazar's Chocolate and Funky Monkey Toys & Games, which are neighboring businesses in Greenvale, N.Y. We then coordinated the delivery of several items to the News 12 studio in Bethpage for a live segment. Featured merchants included North Fork Doughnut Co., Sail Away Coffee Co., and The Pet Store Next Door. And from Westchester, Amodio's Flower Shop and ROC Boards.
On July 12, 2023, News 12 featured Trellus in two segments of "The Real Deal" with Janice Lieberman. "Last year we spent $12 billion on Amazon Prime Day, but small businesses are struggling to compete with the e-commerce giant. Well now, one local company is helping Long Island stores deliver their goods on-demand," said Lieberman.
"We deliver from almost 400 stores from Montauk to Mineola, including farms, same-day. From 9 a.m. to 7 p.m., 7 days a week," Trellus Co-Founder and CEO Adam Haber said. "Amazon delivers a lot of commodity-based items. We deliver a lot of local specialty stores — and commodity-based items — but our value-add is time. Ninety-percent of our deliveries are in 2 hours or less."
Stacy Ferris, Manager of Funky Monkey Toys & Books, added: "That's huge for our customers that shop small businesses. Being able to help with them with their needs, with deliveries… That's something that's priceless, you can't put an amount on that. Because it makes the customers happy and their kids — and that's the most important thing."
"I love this," Lieberman said about Trellus in the live studio segment. "It's instant, on-demand. We don't have to go to Amazon for every single thing."
A separate News 12 Westchester segment of "The Real Deal" highlighted how Trellus has expanded north from Long Island into Westchester County.
Lieberman also previewed the upcoming Trellus Local Marketplace, which will provide consumers a seamless experience of shopping online with same-day delivery. (Our current Marketplace features a directory of stores offering Local Delivery by Trellus.)
Watch the full video by clicking the image below. You can learn more about Trellus for Businesses here and start saving time and money on delivery!