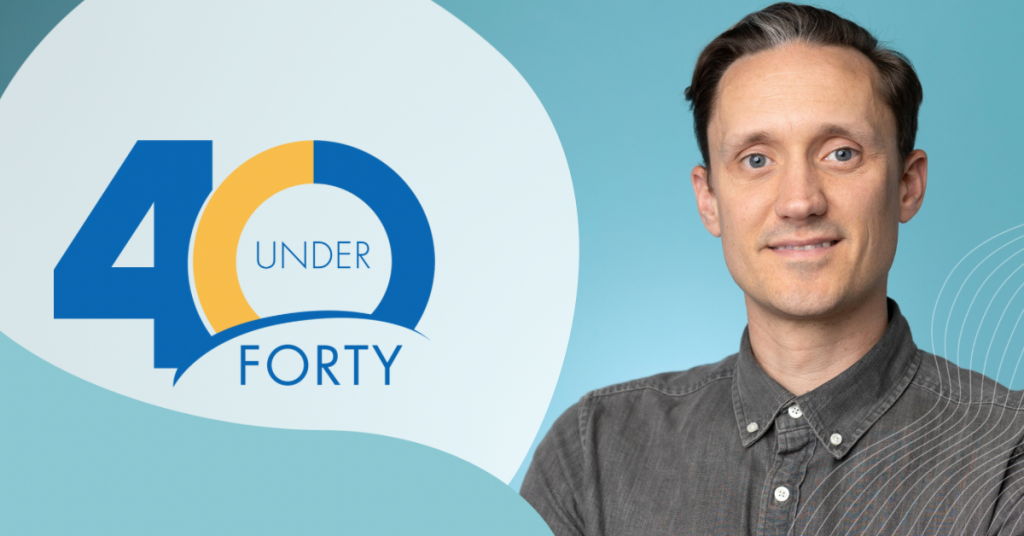 Trellus is celebrating our Co-Founder and CTO JR Jensen, named to Long Island Business News' 40 Under 40 for 2022. This award, which began in 1998, celebrates future leaders of Long Island with a proven track record of career success, mentoring, and promoting their profession. Honorees are nominated by peers and selected by a panel of judges that includes past recipients. The 2022 Class was recognized at an awards reception held Dec. 1, 2022 at the Crest Hollow Country Club.
The following article profiles JR and his achievements, and was published in a special edition of LIBN:
JR Jensen is co-founder and chief technology officer at Trellus Same-Day Local Delivery. His vision impacts each department of the startup, which equips small businesses with the technology and services they need to compete with Amazon and other big-box retail giants. Jensen's years of extensive entrepreneurship and community service have provided him the insights needed to grow Trellus on Long Island and beyond. 
Born and raised on Long Island, Jensen studied accounting and photography at Adelphi University before pursuing studies at The New School's Parsons School of Design. Upon graduation, he was tapped for a high-level art director role at Ceft and Company, a small creative lab for major brands. Jensen then founded Face Piece Creative, a boutique design firm, and landed opportunities in creative direction, UX/UI design, development and brand strategy. Additionally, he was contracted as design director at Triple 8, an action sports protective gear company, and served as creative design director at Outside Television. In 2013, he was hired as a freelance creative director and producer at LongBeachLife.com, a project that connected him to Trellus co-founders Brian Berkery and Adam Haber. 
Under Jensen's direction, Trellus plans to launch an interactive marketplace, offering small businesses a digital platform to sell goods to customers in a seamless transaction complete with same-day delivery. As Trellus creates more in-house and driver jobs for Long Islanders, Jensen is committed to maintaining a positive work culture and ensuring that Trellus never loses sight of its grassroots mission. 
Jensen resides in Merrick with his fiancée, Colleen, and their rescue dog, Ruby. His volunteerism and affiliations are extensive. He's the creator of the New York Beach Relief Fund, which helped raise $100,000 for beach communities after Hurricane Sandy; a volunteer with Surf For All, a 501(c)(3) nonprofit organization dedicated to assisting individuals and helping them experience the ocean; and creative director at NYSEA Collective, a community of New York surfers, artists, skaters, and locals, and host of the annual NY Surf Week Festival. 
He's also co-founder of the No Sleep Running Club athletic community, a youth hockey coach at Kellenberg Memorial High School, and a proud Eagle Scout. 
Jensen says he is most motivated by the human spirit, with its burning desire to "create, help, and connect with others." He adds, "I believe you should leave a place better than you found it, which can be relevant to so many aspects of life." 
He explains that his biggest inspirations "are the people who surround me: my family, my fiancée, my sister and mother and my departed father, all of whom instilled in me the ethos of love and compassion. Daily inspiration comes from my community and friends, Trellus partners and co-workers, my running club, former colleagues and even acquaintances who have shared their stories with me, however big or small they may seem." 
As Trellus continues to expand, Jensen will look to foster an environment of creativity and inclusivity that will effect positive change for Long Island's small business community. 
Trellus congratulates all of the 2022 honorees! The future of the Long Island business community is bright.