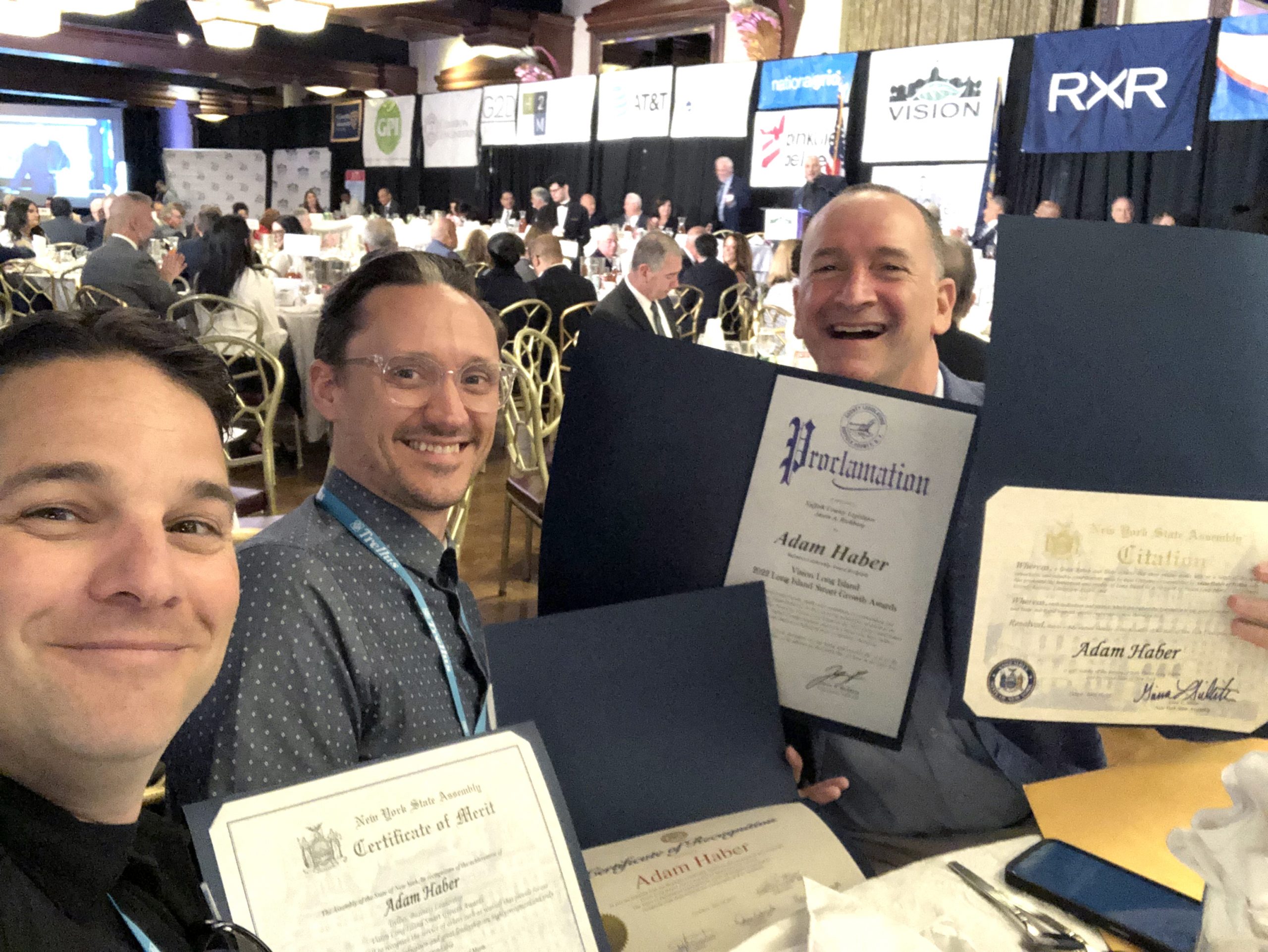 Trellus Co-founders Brian Berkery, JR Jensen, and Adam Haber, celebrate Trellus latest community recognitions. 
Trellus Same-Day Local Delivery was honored in June 2022 at the Vision Long Island Smart Growth Awards.
For over 20 years, the Smart Growth Awards have honored individuals, organizations, and projects that advance the growth of Long Island downtowns and infrastructure. Trellus' mission aligns, as our Same-Day Local Delivery platform is designed to help local Main Streets thrive and enable small businesses to compete with e-commerce giants.
Trellus Co-founders JR Jensen and Brian Berkery joined Adam (header photo) to celebrate at the reception, held Friday, June 10, at the Crest Hollow Country Club.
Adam was also honored with a Citation from New York State Assemblywoman Gina Sillitti Clemency for helping Long Island small businesses.
Here's an excerpt about the Vision Long Island Smart Growth Awards and the honorees, from a Long Island Business News article:
Smart Growth Awards to highlight affordable housing, downtown projects
by David Winzelberg 
[excerpt]
Hosted by Vision Long Island, this year's Smart Growth Awards will honor downtown, mixed-use and affordable housing projects in Valley Stream, Westbury, Hicksville, Long Beach, West Hempstead, Hempstead, Freeport, Wyandanch, Bellport, Riverhead and East Hampton.
The development projects cited by the awards provide a total of 1,290 units of housing with 440 units, more than 34 percent, of those being affordable, according to a Vision Long Island statement. In addition, the developments provide 125,000 square feet of commercial space for offices, restaurants and other small businesses. The projects represent more than $1 billion of private and public investment for 11 Long Island downtowns.
Regional award winners include New York & Atlantic Railway, Suffolk Bike Share and the New York State Small Business Covid Relief Fund. Regional leadership awards honor Adam Haber from Trellus for helping local businesses, Kevin McDonald from the Nature Conservancy for decades of supporting the region's water and natural environment, and longtime Wyandanch community leaders LaFlorence Grant and Ghenya Grant for bringing resources to their neighborhood.
Nearly 600 of Long Island's civic, small business, development, and government leaders are expected to attend the event, including more than 50 elected officials, 25 chamber of commerce leaders and 20 civic leaders, representing over 40 downtowns across Long Island. …