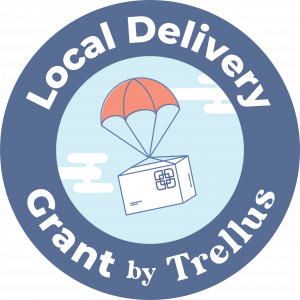 Recipients include 12 Women-Owned Businesses and 2 non-profits
LONG BEACH, N.Y. — April 13, 2023 — Trellus Same-Day Local Delivery announces the 20 small business recipients of the first-ever Local Delivery Grant by Trellus. The program was made possible by Trellus' Grand Prize victory in the 1010 WINS Small Business $10K Challenge sponsored by Dime Community Bank. The 20 Long Island small businesses have each been awarded $500 to kickstart or expand their delivery services.
"The team and I are so excited to welcome these 20 grant recipients into our Trellus community," said JR Jensen, Trellus Co-Founder and CTO. "These small businesses reflect the diversity of Long Island, as well as the wide variety of businesses in need of local delivery services."
The 20 winners include brick-and-mortar retailers, professional services, and home-based businesses, as well as nonprofit organizations. They join Trellus' community of 350+ small businesses collectively approaching 50,000 deliveries across Long Island and Westchester.
(In alphabetical order)
2 Happy Hippies, Deer Park – Offering nutrient-dense, plant-based foods with good intent to nurture body, mind and spirit.*
Always and Forever Rose Floral Arrangements, Wantagh – Handmade arrangements with real and fresh preserved roses and flowers.*
Amity Harbor Sports, Amityville –  Offering a wide range of equipment, apparel, and accessories for hockey and baseball, as well as full custom apparel options.*
Birthday Wishes, Hicksville – 501(c)(3) nonprofit improving and empowering the lives of homeless children and their families by providing joy, play, and hope through the magic of a birthday party.
Bliss Pastries, Dix Hills – Addictively delicious chocolate chip cookies and brownies that happen to be gluten-free and nut-free. *
Dobler Farms, Deer Park – Local farm committed to sustainable agriculture and delivering fresh, healthy local produce, baked goods, jams, and flowers.*
ELIJA Farm, South Huntington – 501(c)(3) nonprofit and 10-acre farm offering a Community Supported Agriculture (CSA) program and opportunities for diverse populations.
Fisher Signs & Shirts, Southampton – Offering a wide range of printing services, including custom business cards, brochures, postcards, and more.
The Illegal Baker, Calverton – Boutique bakery specializing in homemade baked goods, baked breads, cookie assortments, and more.*
Laura's Dance & Fitness Studio, Huntington – Specializing in dance classes, group fitness classes, personal training, and birthday parties.*
Muffin & James Doggy Bag Treat, Bay Shore – 'Clean-eating dog treating,' made with human-grade simple ingredients and baked upon request. †*
The Napolitano Family Farm, Brentwood – Providing the community with fresh, organic, diverse, and delicious produce.*
Native Ceuticals, Holbrook – A seed-to-shelf business model providing non-toxic ethically produced CBD and CBD products.
North Fork Craft Wines & Spirits, Greenport – Curated wine and spirits shop with a focus on local bottles.
Nothing Bundt Cakes, Carle Place – Local franchisee baking handcrafted bundt cakes in a variety of delicious flavors and sizes.
Saddar Town, Albertson – Offering tasty tandoori naan that's allergen-friendly and still made using traditional cooking methods. †*
Security Dodge, Chrysler, Jeep and Ram, Amityville – Offering customers a state-of-the-art service center that includes delivery of parts and accessories.
The Sweetest Place, Nesconset – Customized decorated sugar cookies and curated treats, as well as cookie decorating classes. †*
Trophy Hut, Rocky Point – Providing the highest-quality award products to professional, collegiate, and high school markets.
What's in Clark's Kitchen, Holbrook – Baking small-batch sourdoughs, yeasted breads, and treats.*
† BIPOC-owned business
* Woman-owned business
Notably, 12 of the businesses are woman-owned, and of those, 3 are also BIPOC business owners (black, indigenous, and people of color).
One of the winners, Amity Harbor Sports, was a runner up in the 1010 WINS Small Business $10K Challenge, and has already placed a delivery by Trellus.
Applicants were encouraged to share a brief summary about why delivery would benefit their small business. In her application, What's in Clark's Kitchen owner Jessielee Clark wrote, "By offering delivery I will be able to compete that much more with big businesses that have multiple employees on their payroll. Currently it's just me and I have to schedule deliveries between school drop-offs and pickups, appointments, etc."
The home-based baker has since placed her first delivery by Trellus and confirmed the platform is providing the support she hoped for.
"When I was in a bind with a sick child at home, I liked that I was able to utilize Trellus to still fulfill my deliveries to a local small business on short notice. The platform was easy to navigate as well!" she said. "Thank you again for offering this grant!"
Native Ceuticals owner Bill Hatzichristos is using Trellus to reach customers who can't shop at his store in person.
"So many of our customers are wheelchair-bound seniors who can't drive, or they're adult children who work full-time but want to get the relief their senior parents need in a timely fashion. Trellus allows us to stay connected to small businesses on Long Island and the Native Ceuticals community," he said.
The Trellus team will continue to work hands-on with the grant recipients, supporting their adoption of the delivery platform and helping them achieve their business goals.
Learn more about Trellus Same-Day Local Delivery at www.bytrellus.com.
About Trellus Inc.
Headquartered in Nassau County, N.Y., Trellus Same-Day Local Delivery has created an integrated delivery system that makes it possible for local small businesses to provide affordable, reliable delivery. As a team of local business owners, Trellus understands the importance of small businesses to local economies, and supports local by keeping jobs, sales, and services in our communities. From inception, Trellus' business model has been fundamentally different from other delivery providers. Trellus doesn't take a portion of the small business's sale and leaves business owners in control, whether they want to absorb the delivery cost or pass it on to the customer. Believing drivers are the backbone of the operation, Trellus compensates drivers better than the average delivery gig. Learn more at www.bytrellus.com or call 1.833.LocalLi (562-2554).
Media Contact:
Brian Berkery
516.384.2410
brian@bytrellus.com