I would recommend Trellus to other small business owners for the peace of mind it provides, and also because it does help you to scale. If I'm out running around doing deliveries, I'm not here managing the store. It's made life a lot easier  
–Julie Ahmad, Dolce Confections
Dolce Confections is a beloved neighborhood chocolate shop located in Hewlett, NY, that's completed almost 500 deliveries by Trellus over the course of a single year. 
Dolce Confections is best known for their dipped pretzels and creative gift baskets with assorted, kosher-certified chocolates. They're also a local destination for personalization and corporate gifting. Owners Julie and Jamal Ahmad love serving their regulars and helping other small businesses in the community with client gifts and promotions. 
In 2022, the family-owned-and-operated business marked its successful fourth holiday season at its current location, with the help of Trellus Same-Day Local Delivery. Julie sat down with us to talk about her Trellus experience. 
The Problem: Reliable, Affordable Delivery Help
"My husband and I scrambled every time we got a delivery. We had to figure out how we were going to get it there and who was going to do it," Julie recalled. The busy couple would juggle picking up their kids from school and dropping off customer gifts. "It was always a struggle because by the time I got back, there'd be another delivery. We never said, 'No we can't do delivery.' We always tried to figure it out." 
Hiring a driver year-round was an "impossibility" for the small business, Julie explained. It didn't make financial sense to keep someone on payroll year-round, when the volume of deliveries varied depending on the season. Julie's daughter got her driver's license, which helped for a time, but eventually she left for college. The store hired another local college-aged driver, but it was too much for a student to handle. 
"It's a lot of management and organizing when you have several deliveries to make, and you're trying to figure out the most efficient route. The logistics got complicated," Julie explained. 
When a Trellus account manager visited the shop one day, Julie's ears perked up. She took the information about Same-Day Delivery solutions designed for small business needs. Later, she sat down with Jamal to crunch numbers and see if Trellus could work for them. For Julie, the "a-ha" moment came when they considered their needs for the holiday rush. Using Trellus made good financial sense.
"It's really not feasible for us to do all of our own deliveries around the holidays. We always had to have extra help," Julie said.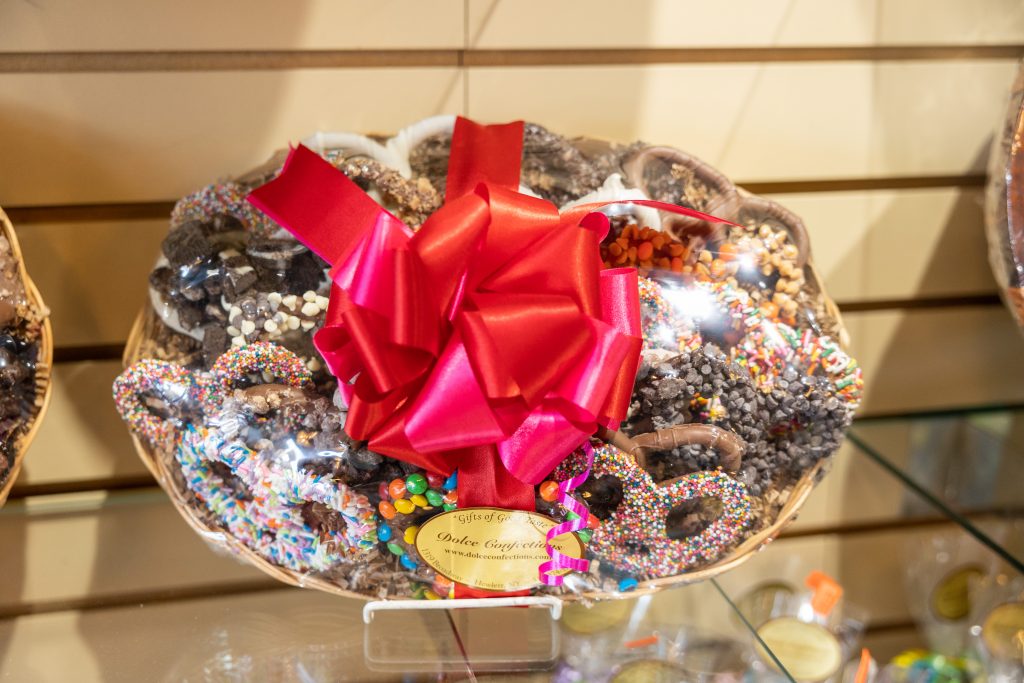 The Challenge: Batching Orders and Route Optimization 
When Dolce Confections had their own driver, a time-consuming challenge was figuring out batched orders and optimizing the delivery route.
"We'd have to figure out, how do I do 10 deliveries? Which one do I do first so that I'm not driving from Garden City back to Valley Stream and then back to Garden City?" Julie described. 
The ability to batch orders and optimize delivery routes through Trellus provides Dolce Confections a huge time- and money-saving advantage, and it takes the guesswork out of the process. 
Julie also likes Trellus' test delivery feature, which allows her to determine rates. For example, a local customer called to place a bulk delivery order and asked about local shipping with UPS vs. local delivery. Julie pulled up the Trellus test delivery feature and put in the customer's information. Trellus beat the traditional carrier on price and time.
Julie also likes that she can look up orders on the Trellus platform to see exactly when they were delivered, with photo proof of delivery.
In her experience, delivering orders as the business owner presented challenges beyond time. "It doesn't look good when the owner is doing delivery. Customers can get upset if you're charging them for the service," Julie said, describing how some customers expect the service to be included with the purchase. With Trellus, Julie gains a layer of separation that's valuable. "I don't have to feel guilty about charging for delivery. It's a service… It makes delivery an easier conversation to have with a customer," she explained.
The Solution: Saving Money and Scaling Business 
Dolce Confections likes that Trellus gives them control over how they handle delivery costs with customers. Having set fees makes the service budgetable and predictable. The reliable service allows them to scale their business for real, sustainable growth. 
Julie estimates that, on average, Trellus saves her at least 5 hours per week on delivery, and even more hours around the busy holiday season. 
Whenever she has a question about placing a delivery or using the platform, she's able to reach a real person for support, either by phone or through the Trellus Chatbot feature. "We get a human being when we call Trellus," said Julie. "It's a totally different experience than using GrubHub or DoorDash." 
Currently, Trellus' service area covers all of Long Island and Westchester, but deliveries can be scheduled into Queens and other NYC boroughs by request. Julie appreciates the team's willingness to work with her on special requests. 
She also enjoys the fact that many Trellus drivers live in the local community. She's found that drivers are transparent, and they'll even call her directly if there's ever an issue completing a delivery.
At the time of this conversation, Julie was planning a 15-basket delivery on a Friday and more than 100 batched deliveries for the following week. 
"I would recommend Trellus to other small business owners for the peace of mind it provides, and also because it does help you to scale. If I'm out running around doing deliveries, I'm not here managing the store. It's made life a lot easier," Julie summarized.