There's no such thing as bad press… right? That's not exactly holding up for Amazon, which has tried to outwardly portray itself as a small business champion, when the company's internal actions suggest otherwise. Amazon's business practices are being scrutinized in a landmark antitrust lawsuit recently filed by the Federal Trade Commission (FTC) and 17 states. Whether or not you agree with the U.S. government's legal intervention, small business owners should pay attention to the key issues of this lawsuit and what's at stake.
Here's what to know about these latest developments.
Amazon Allegedly Used Secret Algorithm to Raise Prices
The Wall Street Journal reported that Amazon used a secret algorithm known as "Project Nessie" to gauge how much it could raise prices while competitors followed suit, according to the redacted portions of the FTC's monopoly lawsuit. The algorithm enabled Amazon to boost its profits across various shopping categories. Because of Amazon's dominance in e-commerce, competitors often raised their prices in response to Amazon, impacting consumers by charging them more. In instances where competitors didn't match Amazon's prices, the algorithm (which is no longer in use) automatically returned items to their original price point.
This algorithm was also employed during promotional events, where Amazon matched discounted prices offered by competitors, causing a price war. Even after the original sale ended, Amazon and its competitors continued to offer lower prices. The FTC's lawsuit alleges that Amazon's actions extracted an undisclosed amount from American households and generated an undisclosed amount of excess profit. It's estimated that Amazon generated over $1 billion in revenue through the use of the algorithm.
The FTC's central argument is that Amazon's control over third-party sellers on its platform leads to higher prices for consumers and an unfair "pay-to-play" environment for sellers. Third-party sellers are allegedly forced to use Amazon due to its reach, consumer base, and logistics capabilities. The FTC claims that if sellers offer lower prices elsewhere, Amazon "punishes" them by downgrading their listings, making them less visible to shoppers.
Amazon's fees charged to third-party sellers have substantially increased over the years. The company now takes almost half of the dollar amount from every sale made by third-party sellers. A report from the Institute for Local Self-Reliance found that between 2014 and 2023, Amazon's cut of third-party seller sales rose from 19% to 45%.
Amazon is defending its role as a trusted partner for sellers, providing effective services for businesses. "The FTC's complaint alleges that our pricing practices, our Fulfillment by Amazon offering, and Amazon Prime are anticompetitive. In so doing, the lawsuit reveals the Commission's fundamental misunderstanding of retail," David Zapolsky, Senior Vice President, Global Public Policy & General Counsel at Amazon, wrote in response. 
He contends that Amazon sellers have choices, and many succeed in Amazon's store using other logistics services or choosing not to advertise with Amazon.
Still, Amazon's dominance and power present a dilemma for many sellers, who rely on the platform's reach but are wary of overdependence on the retailer, knowing that Amazon can quickly change the rules and affect their businesses.
Amazon Cancels 2% Merchant Fee
As a likely result of the FTC lawsuit and its timing, Amazon decided to cancel its planned 2% fee hike on merchants who don't use its shipping services, Bloomberg reported. The fee, which was announced in August and set to begin on Oct. 1, would have affected thousands of third-party merchants using Amazon's Seller Fulfilled Prime program.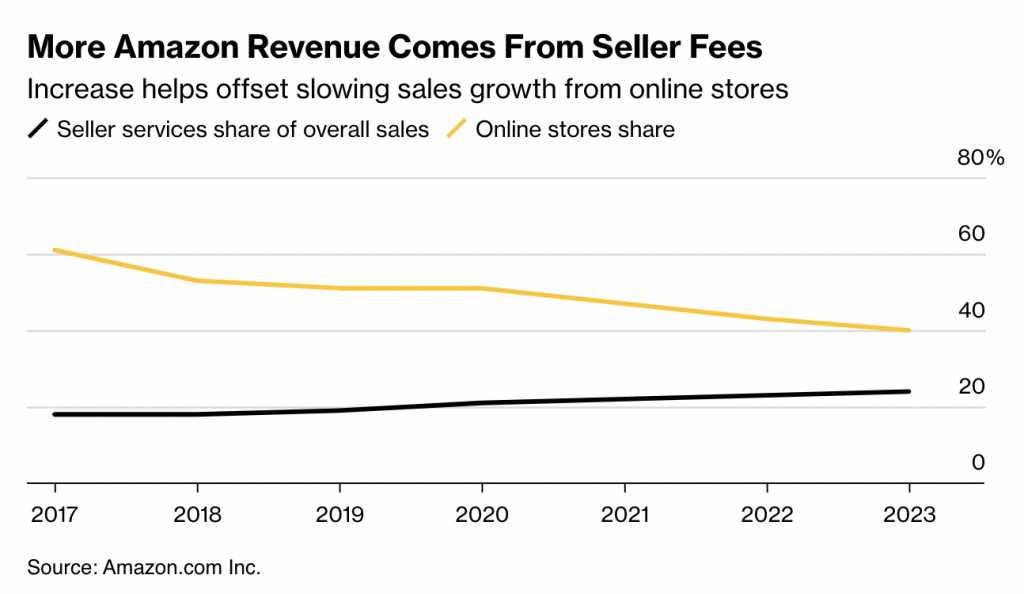 Graph by Bloomberg
Seller services have become increasingly important to Amazon, generating $32.3 billion in revenue in the second quarter and surpassing even its profitable cloud services business, according to the report. Last year, merchant fees began accounting for about half the cost of each sale, making it more challenging for merchants to turn a profit.
Full Steam Ahead for the Holidays
Despite these recent controversies, Amazon remains undeterred in its preparations for the holiday season. The company announced its plans to hire 250,000 full- and part-time workers for the holiday season, a 67% jump compared to last year, reported Associated Press. Amazon noted that more jobs are available because the company has opened over 50 new fulfillment centers, delivery stations, and same-day delivery sites in the U.S. this year.
However, more manpower doesn't translate to more flexibility for small business partners. Amazon has already issued a warning to sellers, urging them to get their Black Friday inventory into warehouses by October 26 to prevent capacity issues in November. In October, Amazon's focus shifts toward receiving products in preparation for the holiday rush, temporarily prioritizing inventory intake over shipping, reported Retail Brew.
Trellus Is a Small Business Champion Prioritizing Your Timeline
When it comes to logistics, small businesses can choose to be at the mercy of e-commerce giants and traditional carriers, or they can empower themselves by handling their own fulfillment whenever possible.  Trellus Same-Day Local Delivery offers a host of advantages that cater specifically to small business needs for on-demand, same-day delivery. As a result, businesses that are diversifying their logistics with Trellus are achieving great bottom-line results.
Unlike many other delivery services, Trellus exclusively partners with small businesses, fostering a sense of community and support. That includes our live support agents who are easily reachable by phone or via our Chat Bot. Additionally, Trellus doesn't take a portion of each sale, ensuring that small businesses retain more of their hard-earned revenue. The flexibility of Trellus stands out, as it provides businesses with a more adaptable and customizable approach compared to warehouse fulfillment and traditional carrier shipping options. This adaptability empowers businesses to meet the unique demands of their customers efficiently and cost-effectively.
In an era where customer satisfaction and streamlined operations are paramount, Trellus Same-Day Local Delivery emerges as a valuable partner for small businesses looking to thrive in the competitive e-commerce landscape.
How can Trellus help your small business during this busy holiday season? Get in touch and let's talk about your last-mile delivery needs.