Sometimes when you read that 99% of business owners are on board with something, it seems too encompassing — perhaps a little "too good to be true." Honestly, that was our initial reaction to reading that 99% of major retailers plan to offer same-day delivery services by 2025, according to the results of a 2022 study by Bringg. However, this data about the vast majority of enterprise retailers was further supported in another recent global retail industry study. Salesforce's fifth edition of the Connected Shoppers Report showed that 60% of retail decision makers currently offer same-day delivery from their store via a third-party delivery service. Another 37% said they plan to offer it.  When same-day delivery is on the radar of 97% of retail industry leaders, it's the future of e-commerce.
The data doesn't lie. Major retailers are investing in the technology and infrastructure to meet their top 5 challenges, identified in the Salesforce survey: increased competition, shipping costs, supply chain difficulties, changing customer expectations/behaviors, and inventory management.
This corresponds to the top 5 retail industry opportunities identified: growing e-commerce, improving customer service, improving personalization, improving efficiency, and increasing store associate productivity.
The authors question if retailers can clear these hurdles and satisfy shoppers in an uncertain economy. They explain, "Retailers believe the answer is yes if they can humanize increasingly digital experiences. They see opportunities to build loyalty and grow share of wallet through customer service, ecommerce, and marketing. But, to accomplish their goals, they must keep up with shoppers' changing behaviors and rising expectations."
Today, with the peak surge of COVID online shopping behind us, customers are shopping online and in stores at nearly the same rate. In 2023, shoppers said they made 49% of transactions in physical stores, but by 2025 they'll complete only 44% of transactions in-store. Online platforms – websites, shopping apps, and online marketplaces – will all see an uptick, as well as "newer digital channels and delivery apps."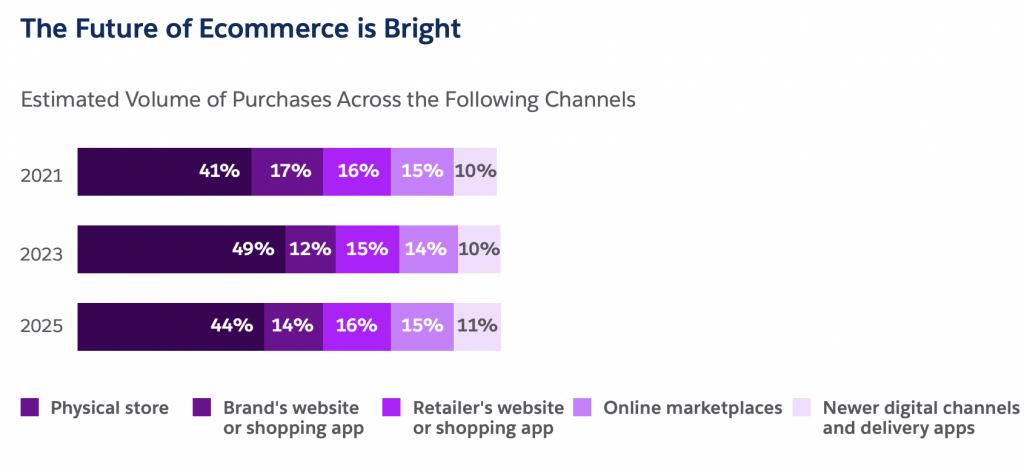 Source: Salesforce, Connected Shoppers Report, Fifth Edition
Keep in mind that the Salesforce study surveyed 2,400 shoppers and 1,125 retail industry decision makers worldwide. U.S.-specific data indicates that only 40% of customers are shopping in the physical store, followed by 21% on the retailer's website or shopping app. Interestingly, in another 2 years, the same 21% are expected to continue purchasing on the retailer's platforms.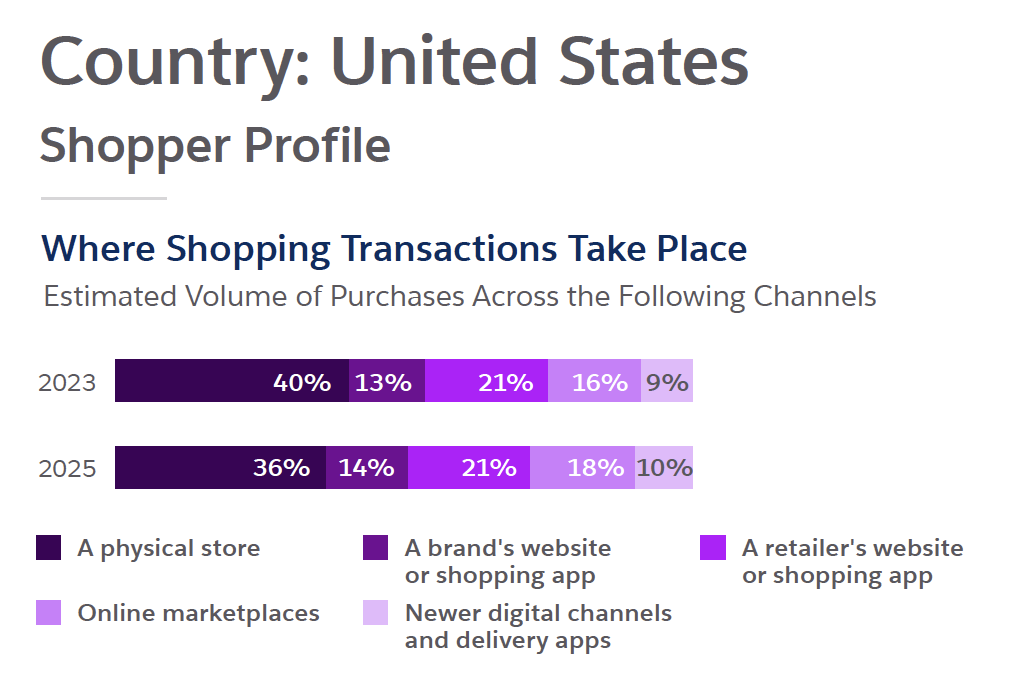 Source: Salesforce, Connected Shoppers Report, Fifth Edition
The data speaks to increasing challenges for brick-and-mortar retailers to be everything to every customer. There's real potential in diversifying outreach and partnering with third-party services that can drive new customers and revenue growth.
How Small Businesses Can Stay Ahead of the Curve
Small businesses in our local communities need forward-thinking technology and services that current and future customers want and expect.
Trellus' Same-Day Local Delivery & Marketplace specializes in localized infrastructure and network tools, enabling small businesses to offer same-day delivery services to their customers. Since launch, Trellus has made 75,000+ successful deliveries for 400+ merchant partners across Long Island and Westchester County. Soon, our small business partners will be able to access the Trellus Local Marketplace, an Amazon-like direct-to-consumer experience, with same-day delivery available at checkout.
Stay ahead of the curve! Learn more about Trellus Same-Day and Scheduled Delivery services.