Mother's Day is just around the corner, and here at Trellus Same-Day Local Delivery & Marketplace, we're preparing our small business partners to make the most of this special holiday. We know this is one of the year's biggest holidays (if not THE biggest) for our florist partners. They're best served by staying the course and reminding customers that they offer the convenience of Same-Day Local Delivery. For other specialty retailers, Mother's Day stands apart from the end-of-year holiday rush. It's a time when you can test a new promotion, like a subscription box or limited-edition item. Inevitably, spouses and children procrastinate and postpone their shopping to the last minute. So it's a great time to sync up your in-store experience with your online shopping experience. Findings from the National Retail Federation's annual Mother's Day survey show why this is the case.
This year, Mother's Day shoppers are looking for items that are unique or different (47%) or those that create a special memory (42%), according to the survey. Shopping online and in departments stores is popular, but there's plenty of opportunity for small, independent businesses. Many shoppers will turn to specialty stores (30%) and small businesses (24%) to find that special gift. Notably, online shopping is expected to see a year-over-year dip of 2%, while specialty stores will see a 3% uptick (see graph below).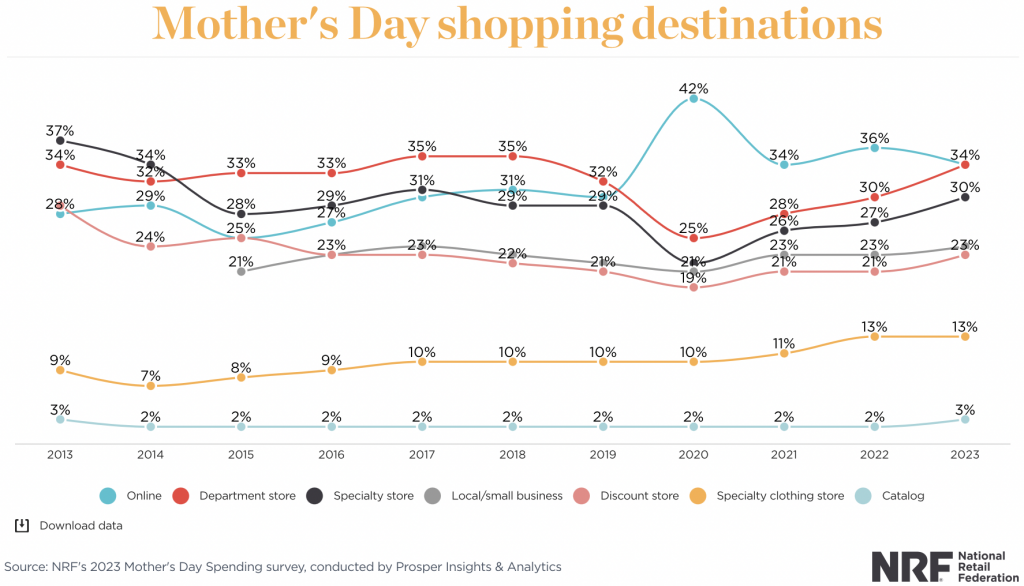 With these trends in mind, here's a 5-point checklist to make sure your store is ready for Mother's Day success:
1. Evaluate your Mother's Day inventory
Take stock of your products and identify what items are likely to be popular for Mother's Day. Focus on offering unique or different items that can create a special memory. Consider offering limited-edition items or subscription boxes to attract more customers. In fact, it's a great time to try a product subscription box, with 46% of shoppers interested in this option, up from 39% last year, according to the NRF survey.
2. Sync your online and in-store experiences
Many shoppers will turn to online shopping to find gifts, particularly those customers that wait until the last minute. Make sure your online and in-store experiences are consistent and seamless. Check that your online store is up-to-date with your latest inventory, pricing, and promotions.
3. Promote Same-Day Local Delivery
Especially if you're a florist, emphasize the convenience of Same-Day Local Delivery. Make sure your customers know that they can count on you for last-minute gifts. Trellus merchant partners can check out our Support Center for tips on marketing same-day delivery to your customers.
4. Create a special Mother's Day promotion
Consider offering a special promotion for Mother's Day to entice shoppers. This could be a discount or a free gift with purchase. Perhaps you offer free delivery as a trial. Make sure the promotion is prominently displayed on your website and in-store.
5. Prepare your staff
Make sure your staff is trained and prepared to handle the increase in traffic during Mother's Day. For instance, if you offer same-day delivery, make sure your staff knows the protocol for preparing orders for pickup. Consider offering incentives for staff members who go above and beyond to ensure customer satisfaction.
With consumers planning to spend a total of $35.7 billion on Mother's Day this year, nearly $4 billion more than last year's record high of $31.7 billion, there's plenty of opportunity for small businesses. It all depends on whether independent businesses can position themselves competitively against the likes of e-commerce giants. Remember: Customers are looking for something special, and your small business fits the bill.
Trellus is here for you! We're helping our small business partners on Long Island and in Westchester County prepare for a busy Mother's Day. Getting started with Trellus is simple and streamlined. If you have questions, send us a message through our Trellus Chatbot (look for the icon on the bottom right of your screen) or call 1.833.LocalLi (562-2554).