As independent business owners ease into the holiday season, many share a similar concern: How can a small business affordably compete with Amazon and other e-commerce giants and get purchases into the hands of customers as quickly as they expect? This year, inflation is factoring into rising shipping costs, all while customers have increasingly high demands for fast delivery. As a result, everything relating to last-mile logistics is more expensive and more competitive. Small businesses shouldn't be disheartened. There is a solution that can save time and money. Customer-oriented services, like Trellus, are helping small businesses with local delivery for the holidays. These businesses will avoid the package glut and rising costs associated with traditional carriers as they reach more local customers with less headaches and hassle.
Why is it important to have an alternative like local delivery for the holidays? It may actually be critical to your bottom line this holiday season.
Fact 1: Small businesses are at risk of losing profits by relying solely on traditional carriers.
This 'fast fact' from a Newsday article, Holiday shipping outlook: 'tis a season for inflation, speaks volumes: "The increasing costs for suppliers, labor, and transportation will outpace retailers' ability to pass costs onto customers this holiday season, putting 10% of profits at risk for retailers and brands, according to a recent Salesforce analysis."
For small businesses, customer relationships are everything. Small businesses on Long Island don't want to raise prices on customers before the holidays. But they also can't afford to absorb these higher costs amid post-COVID recovery.
It seems like a losing situation, but there is something small businesses can do. Here on Long Island, businesses moving products locally can handle fulfillment right from their store or place of business. The Trellus driver network is on-demand, and our platform is designed exactly for these challenges. Most importantly, we don't take a portion of the sale, which makes all the difference to a business's bottom line.
Local delivery for the holidays is the time- and money-saving solution small businesses owners need.
In-Store Holiday Shopping Syncs with Home Delivery
Small business owners should also keep in mind that shipping costs and inflation aren't the only factors making this holiday season a uniquely challenging one to navigate. Over the last couple years, the pandemic pushed everyone indoors and online, where they could browse and purchase from the comfort of home. Online shopping is still a huge factor, but people are back to shopping in person, according to the results of PwC's Holiday Outlook 2022.
That brings us to…
Fact 2: In-store holiday shopping is resurging. Now's the time to sync up online shopping with in-person experiences.
PwC wrote: "While online shopping has continued to gain ground over the years, in-store shopping is holding its own, as consumers seek that in-person holiday sparkle. This year, consumers told us they will do 57% of their shopping online; 43% in stores."
Another holiday consumer survey from The NPD Group provides more evidence of a return to in-store holiday shopping. Consumers expect more of their holiday purchases to be made in-stores (46%) than online (45%) this year, representing a significant shift from last year's plan for half of their shopping to be done online. Also, the number of consumers planning to do holiday shopping online fell from 85% last year to 80% this year. That's "the largest shift favoring stores in years," NPD noted.
Brick-and-mortar stores finally have a more positive outlook, but it's not a "slam dunk" for stores relying on foot traffic. They should look to offer delivery of in-store items this holiday. PwC explains that consumers want to combine physical and digital shopping in whatever way works best for them.
"In the wake of the pandemic, they are quick to move on if they can't find what they're looking for. Sync up online and in-store options to provide a seamless experience for them that keeps them coming back," PwC advises.
At Trellus, we try to remove as much friction as possible for busy shop owners and their customers. Trellus enables integrations for multiple online shopping platforms, including Shopify. We can walk you through the steps to offer same-day delivery at checkout. Visit our Help Center for more information.
And what happens if retailers don't evolve? They're at risk of losing up to 40% of customers if they don't deliver purchases on time, according to PwC. Also, delivering wrong or damaged items will potentially turn away 33% of customers. "Shorten and diversify your supply chains to deliver the right products on time and help keep customers coming back," the study concludes.
Local delivery for the holidays, direct from your store to a customer's doorstep, is an excellent way to diversify your toolkit this busy season. Plus, hand delivery is great for gift items. It protects the gift wrap and preserves the overall presentation.
And if you plan to offer home delivery this holiday, you'll want to know this final fact….
Fact 3: Home delivery remains the most popular option for online shopping, but it's becoming more sophisticated.
Small businesses need the right tools to meet their customers' high expectations.
PwC reports that customers prefer home delivery services that offer proof of delivery, real-time tracking, and flexibility on timing when deciding between various online shopping options. Check out the chart below to see their preferences when selecting a method of delivery.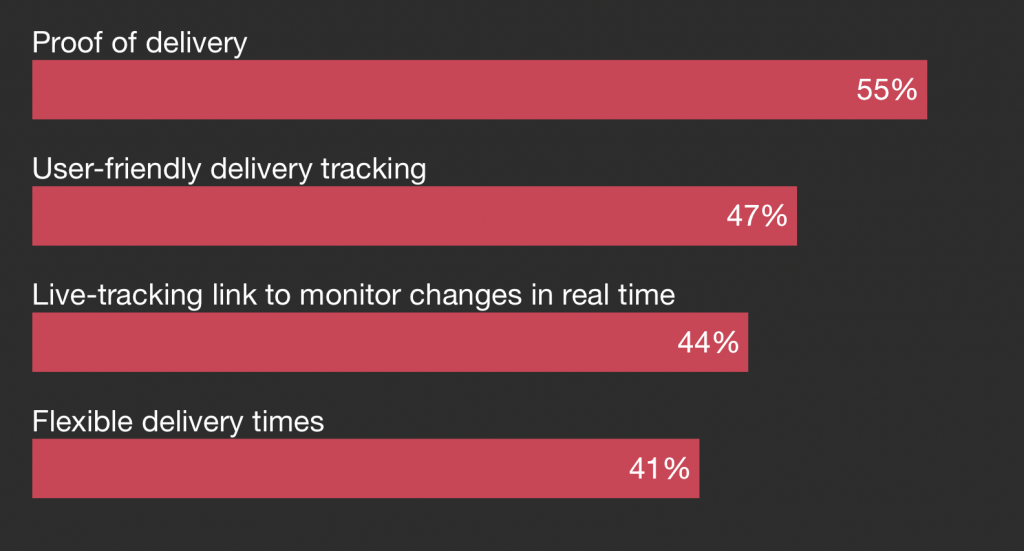 Source: PwC Holiday Outlook 2022
Q: Thinking about the forthcoming 2022 holiday season, how much in total do you plan to spend on others and yourself in the following categories?
Base: 4,000
Trellus helps shop owners stay ahead of the curve with real-time delivery tracking and proof of delivery. You can be sure gift items are reaching the correct destination on time, and customers will have peace of mind knowing when to expect the delivery.
Local Delivery for the Holidays, Wrapped in a Bow

Long Island's small businesses have difficult decisions this holiday season, but they're not alone nor do they have to figure out delivery solutions on their own. Trellus is here to help with real solutions during your busiest time of year. We can work with you to "batch" (group) customer orders to save time and money. Our drivers are on on-demand and on the road 7 days a week all year round, and they're ready for the holiday rush.
Get a jumpstart on your holiday season today with up to 7 free delivery credits when you sign your business up with Trellus. 
We wish you a prosperous 2022 Holiday Season!