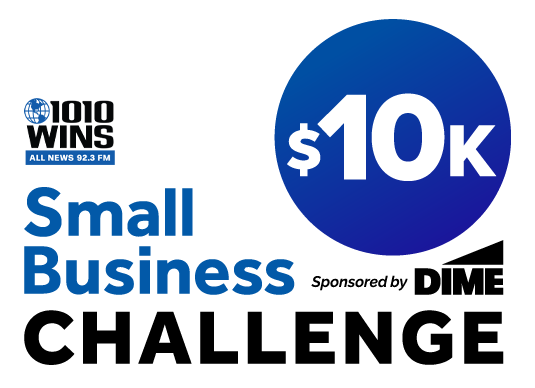 It's official! Trellus Same-Day Local Delivery is the Grand Prize winner of the 1010 WINS Small Business $10K Challenge, sponsored by Dime Community Bank.
The event streamed at www.1010wins.com/challenge on Dec. 15, 2022. The competition was hosted by Rob Walsh, 1010 WINS anchor of The Bottom Line for Small Business, and kicked off with a conversation with Tim Sullivan, CEO of the New Jersey Economic Development Authority.
The event then segued into presentations by the five finalists, who had been selected among hundreds of applicants. Representing Trellus was Co-Founder and CTO JR Jensen, who gave the judges a full synopsis of the company, our mission, and our plan to pay forward the $10,000 to directly help other small businesses.
Here was the winning pitch:
"If Trellus is to be awarded the $10,000 prize, it is going to go directly to offering subsidized deliveries for local businesses. Trellus is an on-demand same-day delivery platform that makes it possible to provide fast, reliable same-day delivery for only small businesses. 
Trellus is here to empower small businesses with the technology and services to compete against Amazon and big-box retail giants. We offer faster delivery than UPS and FedEx at a lower cost than Uber and DoorDash. Our platform is super easy to use, and you can get started delivering in just a minutes. I swear, my mom could do it. And that's not a slight — we tested it on her! 
We currently service Nassau and Suffolk County, Long Island and we're expanding into Queens, Brooklyn, and Westchester. I'm super excited to say that we service over 300 local businesses here in our community and have completed over 35,000 successful deliveries since our launch in 2021. Our driver network, the backbone of our business, is first-in-class with over 70 vetted drivers who prefer to drive for the Trellus model instead of doing fast, rushed hot food and also picking up strangers in their backseat. 
Business owners love using our proprietary batching system which routes deliveries, so it's reducing time and costs for the business owner. My favorite quote from a valued merchant partner of ours is, 'Trellus has helped save my business by allowing us to accept more deliveries knowing we do not need to worry about delivery.' It's businesses like this that further motivate Trellus to wake up everyday and help small businesses win."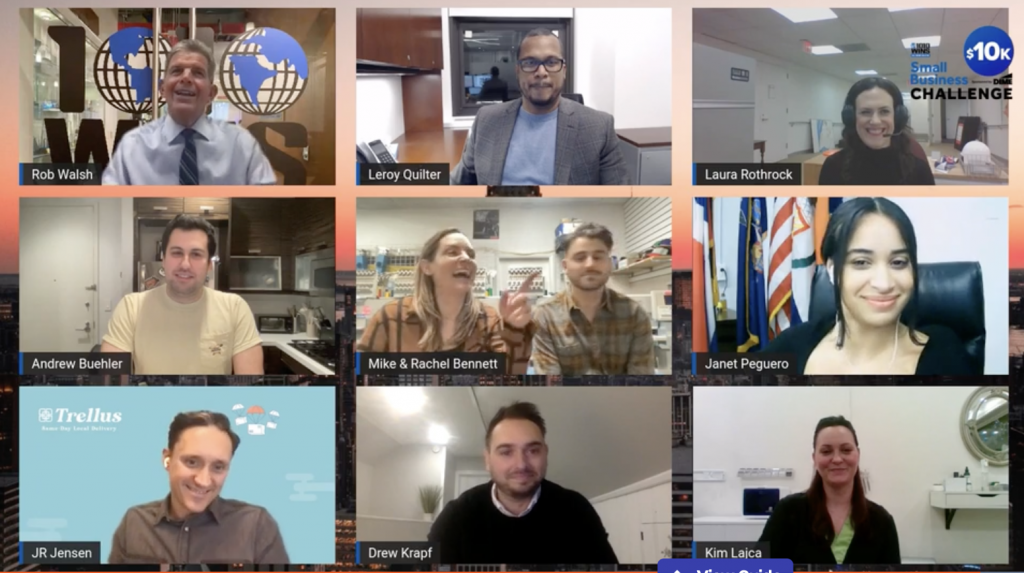 JR Jensen (bottom left) appears on a video call with four fellow finalists, three independent judges, and Rob Walsh, the host of the 1010 WINS Small Business $10K Challenge.
 
Trellus wants to recognize and congratulate our fellow small business finalists. Each of these entrepreneurs had inspiring stories and creative business solutions. We wish them much success as they grow their businesses:
The Amity Harbor Sports, The Ring Pro Shop & Long Island Hockey Co., Mike Bennett of Suffolk County, N.Y.
Baby Size Me Inc., Drew Krapf of Nassau County, N.Y.
Primp My Paws Inc., Kimberly Lajca, Westchester, N.Y.
Urban Smokehouse, Andrew Buehler, New York, N.Y.
We'd also like to thank host Rob Walsh, 1010 WINS and parent company Audacy, and Challenge sponsor Dime Community Bank. Special thanks to the panel of judges for their time and excellent questions in the Q&A:
Leroy Quilter, Director of Digital & Branch Lending, Dime Community Bank
Laura Rothrock, President, Long Island City Partnership

Janet Peguero, Deputy Borough President, The Bronx
The Trellus Team can't wait to help more local small businesses grow their revenue!