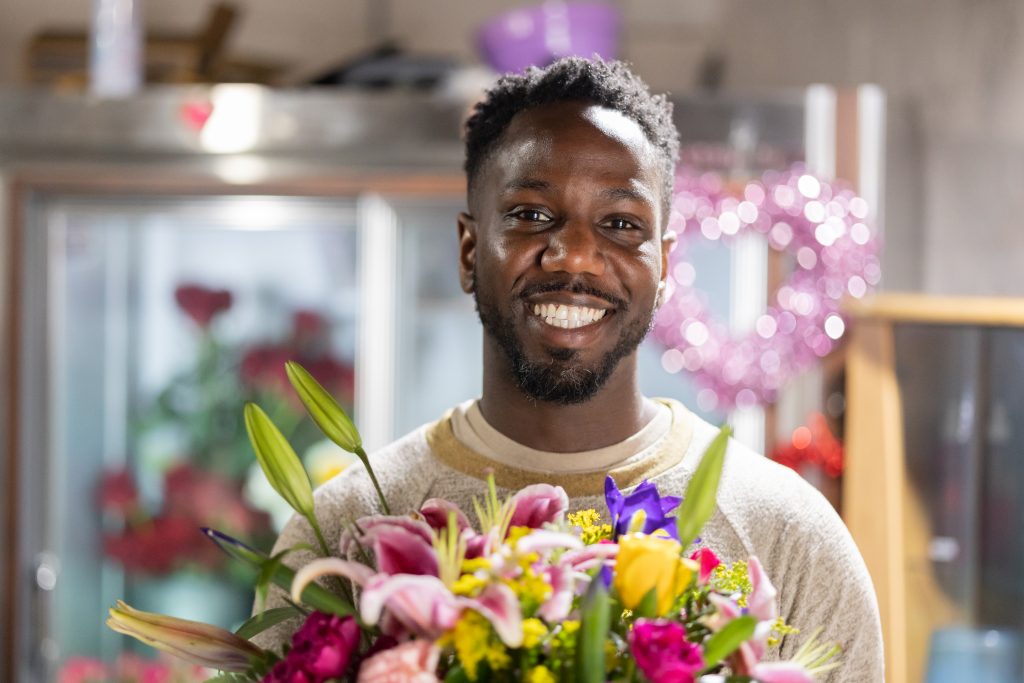 Germel Hutchinson puts the finishing touches on a floral arrangement from Eleanor's Florist in Jamaica, Queens. Photos By: Maria Rose Photography
A refrigerator, a computer, and a dream for a viable small business — that's all Germel Hutchinson had when he took full ownership of Eleanor's Florist, a Queens-based small business and Trellus merchant partner. It hadn't been an easy road to this point in 2018, and Germel was about to find out if he had garnered enough experience and resources to transform a fledgling storefront into a thriving home-based business.
Eleanor's Florist was founded in 2015 by Eleanor Green, an elderly woman who was operating from a Rosedale store. Running a startup proved to be too big of an undertaking for Eleanor as a solo operator. She had a deep passion for her floral arrangements, but struggled with the day-to-day logistics of running a small business in the digital age. She needed help and sought out business partners.
Germel was introduced to Eleanor's Florist through his business partner, Tony, who had consulted Eleanor and helped her start her business. At the time, Germel was working as a bartender and saving money in hopes of one day investing in a small business. He met Eleanor at just the right time.
"I always knew that there was more out there for me," Germel told Trellus in a recent interview. "Fortunately, the stars aligned where I was able to invest the little money that I had saved to purchase an equity share of the business."
As a business partner, Germel initially handled only administrative functions, including marketing. However, he soon began helping Eleanor design floral arrangements, becoming somewhat of an apprentice. Though he had no formal experience or training as a florist, he learned quickly and soon discovered he had great passion for the work.
Eight months in, just as Eleanor's Florist was gaining traction, Germel received a call from Eleanor: she wanted to retire. At the time, his business partner Tony had his hands in many other projects as a consultant, so his attention wasn't focused solely on the florist business. Germel was faced with a choice: carry on alone or close up shop. The latter seemed to be the path of least resistance.
"We were pretty much facing closure," Germel recalled. "We had no other florists with design experience…I was wrapping my head around closing up shop and letting everything go. I was faced with losing my little life savings I had invested and a failed endeavor."
However, Germel's family, close friends, and his support group encouraged him not to give up. He took time to reflect and found inspiration in "The Obstacle Is the Way," the No. 1 Wall Street Journal bestseller by Ryan Holiday. The subtitle, "The Timeless Art of Turning Trials into Triumph," spoke to Germel and his predicament. After reading the book, he felt energized and inspired. He accepted the fact that he couldn't totally predict the future of the business, but trying was a risk worth taking. He resolved to keep going.
"There was definitely a lot of uncertain and scary times, but I was blessed enough to be able to stay strong and persevere through it," said Germel.
Dissolving the partnership meant splitting assets and selling off inventory. Germel decided to keep a refrigerator and office computer and moved the business to a garage in his backyard in Jamaica. Throughout the transition, he continued to take a couple of orders per day, enough to keep the brand and business alive.
Now standing resolutely on a concrete garage floor, Germel found his footing and business began to bloom.
"Fast-forward three years later, and Eleanor's Florist is a successful business, selling over six figures per year…We're doing more sales at home than we ever did in the storefront," Germel said, attributing success to low overhead and digital strategy. "It's been a wild ride and we're growing every year. I'm looking forward to new experiences and new things to come, and I'm just very blessed to be cultivating such a great business."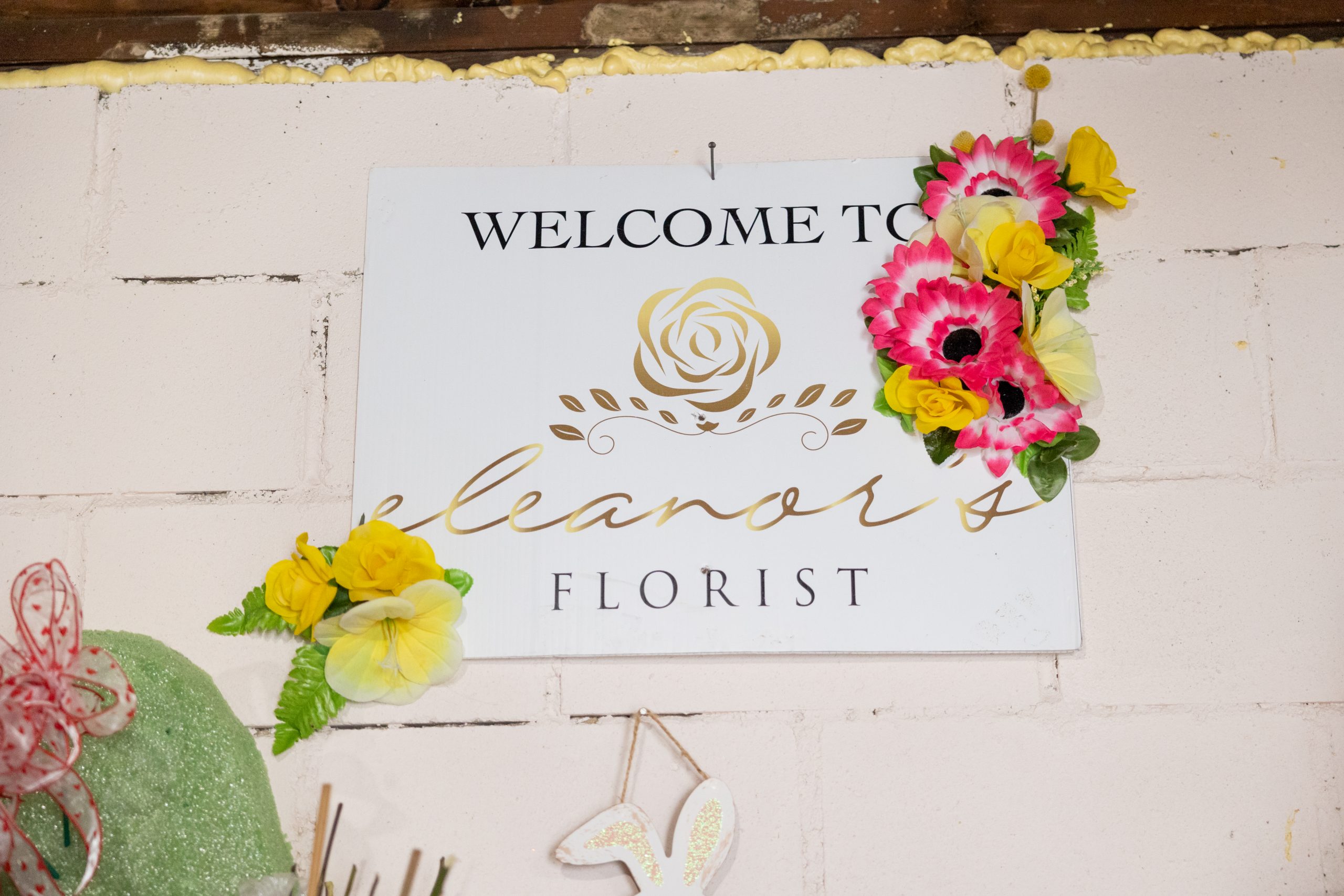 Recently, Germel has called upon Trellus Same-Day Local Delivery & Marketplace to help with increased volume as Eleanor's Florist rapidly grows its service area throughout Queens, Brooklyn, and into parts of Long Island.
"Trellus is definitely great. Deliveries were an area I struggled with, and Trellus provides a lot of aid with their service," he said.
Germel embodies the connection and community of the Trellus merchant network. When asked about his support system, he gave a shout-out to nearby local businesses Orchids Flowers and Gifts and Charmayne's Florist & Cake. These two florists provided him mentorship and resources that have helped him build and become better, and they've even become a referral network.
"I really appreciate them for that," Germel said. "It's easy to think of other businesses in your area as competitors and enemies, but there's so much more to be gained by working in community and learning from each other. There's enough market share in business to go around for all of us."
Reflections as a Minority Business Owner
Trellus interviewed Germel in mid-February during Black History Month, and asked for his perspectives. When asked what it means to be a black business owner in America today, Germel replied, "It means absolutely everything."
"There was a point in time where my parents' parents couldn't be business owners. Or the road to becoming a business owner was far more perilous and troublesome than it is today," he explained. "Thank God for those that came before me that paved the way and allowed me to be able to do this."
At age 34, Germel finds it hard to imagine the times his parents and grandparents lived through — times of great economic disparity and aggression towards people of color. He recognizes that people of color continue to face similar struggles today, but he feels fortunate to have grown up in a more progressive area like New York City. He finds it "beautiful" to be part of a community of black business owners who live by example and show others what's possible.
"Despite color, despite anything that's going on in the world, we're the same and when given a fair shot, in any circumstance, we can all do the same things," he said. "Being an African American business owner, it's important for me to just go out in the world and exude that." For Germel, his proudest moments as a business owner are when customers appreciate his work and take the time to acknowledge it, either by leaving a review or giving a referral.
"I'm putting a smile on somebody's face or making somebody's day better or happier through my work. I envisioned and put something together that someone finds appreciation, happiness, or solace in….That's always the proudest moment for me – hearing that others can appreciate my work and take something away from it."
Learn more about Eleanor's Florist and order Same-Day Delivery by Trellus at www.eleanorsflorist.com.