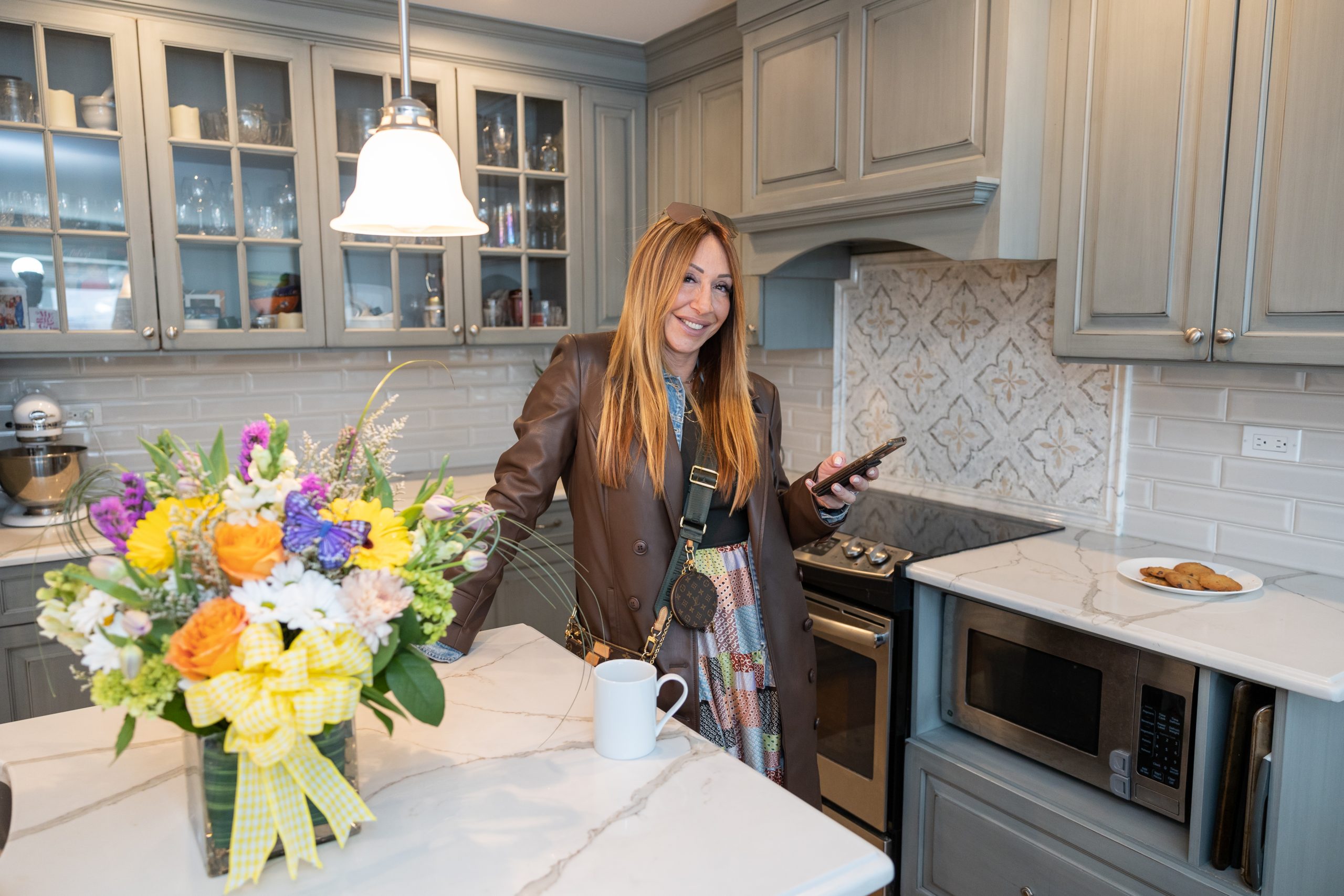 Real estate broker and Trellus investor Leah Tozer prepares for a home staging in Long Beach, NY.
Photos by: Maria Rose Photography 
It's a Monday morning and Team Trellus knocks on the door of a townhouse in Long Beach, NY, a summer rental property located just a couple of miles away from our headquarters. We've been invited to a home staging by local real estate broker and Trellus investor, Leah Tozer, and the property is prime.
The homeowner greets us, and we walk up a flight of stairs to a spacious area where the kitchen and living room are divided by a sectional sofa. The light marble kitchen countertops are complemented by a white tiled backsplash. Light gray cabinets, patterned stone behind the stove, and stainless steel appliances provide a clean, inviting aesthetic. In the living room, a large mirror reflects the ocean view off the sunny second-floor balcony. 
Leah arrives a moment later with her assistant, Christina. She thanks her clients for hosting us, and they exchange pleasantries as Leah prepares for the Trellus photoshoot. 
"I don't know about this as a prop," she says, picking up a coffee mug on the counter. "I don't want people to think I just help myself to their coffee mugs as I'm showing homes!" The room erupts in laughter as the ice is officially broken.
Approachable and down-to-earth, Leah is an award-winning commercial and residential real estate broker and a CBR, Certified Buyer Representative. The combination of her strong market presence and magnetic personality landed her on HGTV's Island Life series. Most recently, in March 2022, Leah was invited to the One Summit with Daniel Gale Sotheby's International Realty in West Palm Beach, FL, and was recognized as one of the top brokers nationally in the entire company.
Leah attributes her professional success to the personal care, positive outlook, and integrity she brings to her work. The vast majority of her business is through word-of-mouth referrals, and fittingly, it was a personal recommendation that brought her into the real estate business nearly two decades ago.
"I was bartending and going to college, and trying to figure out what I wanted to do," Leah recalls. "At the time, my aunt worked for an attorney who did titles and title closings. She said, 'Why don't you call him and see what that's about?'" 
Leah pursued this opportunity and eventually other roles in mortgages and appraisals. The experiences showed her multiple sides of the real estate business. As her knowledge expanded, Leah also realized that she had been "totally screwed over" when buying her first condo. So when a friend suggested she get her real estate license, she was hesitant. However, there was something about using her natural skill set of being a "people person" that appealed to her. Leah also recognized that she could best serve clients by bringing her honesty and integrity to the sales process. She got her license and soon after, she closed her first deal.
"It was amazing! I realized this is what I need to be doing, and I've been doing it ever since," Leah says. "It's a lot of fun. It's good to be in a good place to help people."
Today, Leah is in the position of paying it forward as a first-time angel investor in Trellus Same-Day Local Delivery & Marketplace. She was drawn to Trellus' mission of supporting small local businesses competing with e-commerce behemoths.
"You have Amazon and all of these big conglomerates sucking the life force out of communities — I mean, that's really what it is," she emphasizes. "Every dollar that you spend in a local business, you're helping your local community members. It's something that people have to be aware of and understand. It's just so unbelievably important." 
Originally from Merrick and now residing with her family in Long Beach, Leah says her local community is very special to her. She points to a beautiful springtime arrangement from Doris the Florist, a locally based Trellus merchant partner.
"Doris has been my florist for over 15 years already. She's such a good person and loves all her clients. We just have the same way of conducting business," Leah says. "Flowers make a huge difference when I'm showing a house. It makes it feel really special, and it's a beautiful detail."
In addition to Doris, Leah has a longtime friendship with Trellus Co-founder and Chief Operating Officer Brian Berkery, who serves as Secretary of the Long Beach Chamber of Commerce. Brian asked Leah to join the Chamber a decade ago, and her involvement has culminated in her recent election as Co-chair, the first woman to hold the post. 
For Brian, asking Leah to participate in Trellus' earliest round of funding was a natural decision based on their past conversations. Leah recognized that when delivery from Amazon is the only option, local customers lose the personalized experience of purchasing from unique vendors, artists, and curators. She believes people should be a part of their whole community, and shopping locally is a holistic approach to that. 
"Brian and I were just talking about how difficult it is for small businesses and how many commercial vacancies there are. We wanted to know, how can we help?" Leah says. "Trellus came out of wanting to help small businesses, so it just made sense to me. Anything like that, I have to get behind it 100 percent." 
As a busy, working mom, Leah also identifies with Trellus' core customer. "Getting last-minute flowers or a gift is always my issue," she explains. "How do you get that delivered on the same day? Trellus is how you make it happen!"
For Brian, having Leah as a local investor in Trellus and a vocal supporter of the company's mission holds a lot of weight.
"Leah and I have been friends for many years and watched each other build our businesses from the ground up," he says. "We trust and respect each other's advice and share experiences that make us both better at what we do. As a business owner, it's so important to have other successful professionals close by for support and encouragement. Leah brings so much value and energy to our community, and we are all fortunate to have her in Long Beach." 
Breaking the Bias in Real Estate and Beyond
We caught up with Leah in March during Women's History Month, a few days after International Women's Day. This year's theme was "Breaking the Bias" and imagining a world free of gender stereotypes. We wanted Leah's perspective on the topic as a woman business owner in a competitive industry. 
In 2019, Leah was recognized with the Premier Business Women of Long Island Award as well as the Long Island Real Estate Achievement Award. She's an advocate for women entrepreneurs and a social media influencer with content that speaks directly to women in her audience. 
"I don't know that biases will ever be truly broken, because people have preconceived notions," she says. "I have two young children, I work all the time, and I'm successful. I just think that women are better at multitasking and at pretty much everything! We're able to 'make it work,' and we make it look a little too easy — I think that's part of the problem." 
Leah lives by example, showing her daughter that she can be a successful woman business owner and work hard to achieve her goals. It's an equally important lesson for her son.
"That's where the bias starts — at home. It starts with everyone's perceptions," Leah said. "You also need a good support system to be able to break the bias." 
Celebrating Women's History Month in March, Leah asked Instagram followers to tag a woman that "inspires you, loves you, and has supported you through life's journey." When asked who that woman is for her, Leah doesn't hesitate to name her mom.
"My parents got divorced when I was in the third grade, and my mom worked to keep everything together, even while we were moving," said Leah. "When you're a parent and when you're older, you know how difficult that really is. She's that woman for me." 
When asked if she has advice for other women entrepreneurs, Leah says don't give up when challenges arise. She recommends trying to do something fun and getting into a different mindset when days are hard and something upsets you. She also believes in surrounding yourself with people who share similar goals.
"These are the people who are going to keep you motivated and are going to help you grow your business," she says. "I say this all the time: hard work pays off. It's taken me years and years to get to where I am today. Nothing happens overnight. Everything looks fun on Instagram, but it's a lot of hard work and it's a daily hustle. If that's what you want your life to be, that's what you have to do to get it."
Looking to the future, Leah wants to further the small business advocacy of the Long Beach Chamber and help build better relationships among members. "We're here for businesses and businesses only. Over the past 5 or 6 years, we've taken out the political aspects of what the Chamber used to be," she explains. "It took a really long time to turn that over, but it's important to focus on advocating for small businesses." 
She's also looking forward to a busy summer of real estate, serving clients from all walks of life.  
"I have an amazing array of summer rentals for clients to test the waters — literally and figuratively — down in Long Beach. And if anyone's looking to sell, I'm your girl!" 
To learn more about Leah Tozer, visit her website or follow her on Instagram.