If your small business is among the thousands that adapted to pandemic-friendly services like contactless delivery in 2020, you're in good company. Surviving was an accomplishment during a tumultuous year. Now in 2022, it's up to businesses to continue their technology-based evolution, not just surviving, but thriving and forging ahead into the New Year.
At the time of this writing, contactless delivery remains a safety imperative amid a COVID resurgence, but its popularity is also a result of evolving customer expectations for convenience. Here on Long Island, merchant partners of Trellus Same-Day Local Delivery & Marketplace have found real value in local, contactless delivery.
"Trellus has been a godsend to us — a  great way during COVID and beyond to be able to send your loved ones and friends gifts efficiently and affordable," said Debbie Imperatore, Store Manager at Funky Monkey in Greenvale. "Many customers are still afraid to attend parties and functions. Many are back to work and just don't have the time… The contactless drop-off makes the customers feel even safer in these scary times."
In a survey of local businesses by Podium, nearly 85% of respondents flocked to businesses offering pandemic-friendly services, such as local delivery and contactless payments. Approximately 60% said they patronized a business for the first time because of pandemic-friendly services, while more than half, 53%, said a local business's failure to offer such services led them to either seek out or purchase from a competitor or discontinue patronage altogether.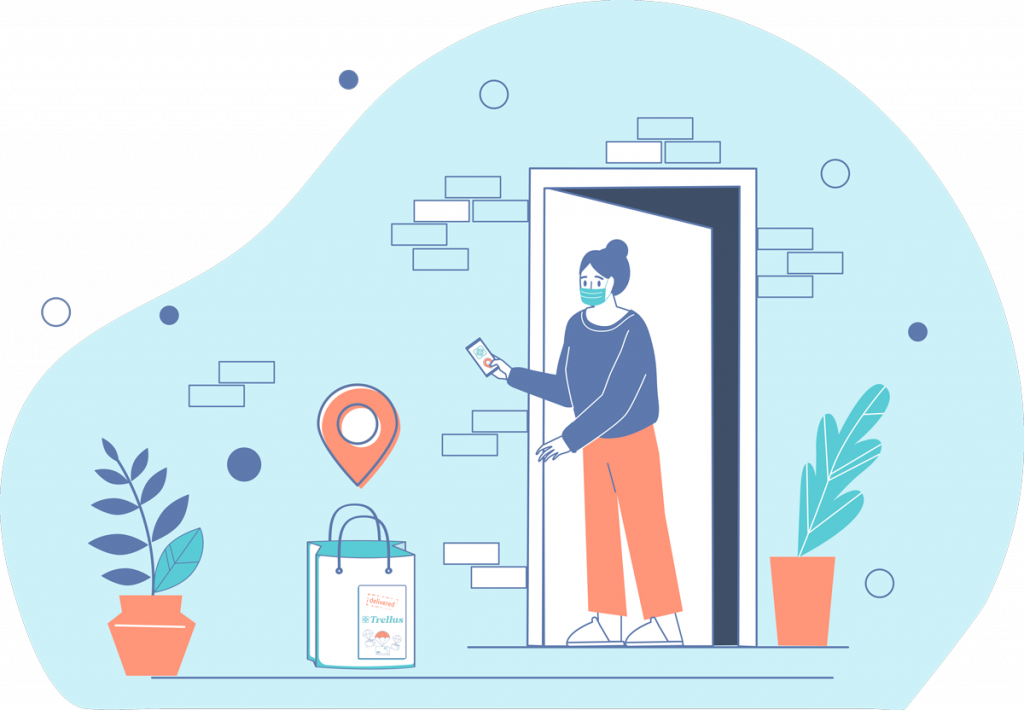 Among the customers surveyed, 66% said their expectations have changed since the start of the pandemic, and nearly 46% of that group said those changes are permanent.
Today, pandemic-friendly services like contactless delivery are again top-of-mind during the spread of the Omicron variant of COVID. The question is, what has kept businesses that offer these services top-of-mind for customers? It's not just the services alone, but key variables like reputation, customer experience, and expertise. These are the top three differentiators, according to local businesses surveyed.
When it comes to experience, customers look for ease of doing business second only to price. According to the study, consumers actively look for businesses that text, and they buy online more than before, seek out contact-free interactions, and heavily favor digital inquiries over visiting physical locations. Among the findings:
72% of consumers report spending more money on online purchases in the past 12 months.
43% of consumers actively seek out businesses that minimize personal contact.
Trellus is working hands-on with small businesses to translate their key differentiators digitally and offer a pandemic-friendly service customers want. "Trellus helps your favorite local small businesses compete in a world where consumers are rapidly shifting to shopping online," said CEO and co-founder Adam Haber, summing up the competitive advantage of same-day local delivery.
Check out how businesses and consumers are aligned on their top desires for expanded delivery options and contact-free transactions:

Source: Podium, 2022 State of Local Business 
Trellus Remedies the 'Double-Edged Sword' of Delivery Platforms
It's clear that for small businesses, digital and mobile communications are here to stay. However, it's important to keep in mind that ease of doing business can be a "double-edged sword," the Podium study authors caution.
"The standard—and point of comparison—for most consumers has been set by apps and businesses like Uber and Amazon. In order to meet consumer expectations, local businesses need to aim for this level of convenience without losing local presence and feel," they conclude.
That's the true value of Trellus Same-Day Local Delivery & Marketplace. We work only with small, local businesses, including independent retailers and home-based ventures, and we respond in real-time to changing market conditions. In response to surging COVID variants, we've prioritized contactless delivery with our merchant partners and their customers. We pride ourselves on providing a high level of convenience, but even more so, we take pride in supporting the mission of our merchant partners in service to their local customers.
Here are 3 ways Trellus provides a better customer experience with safe, convenient contactless delivery that doesn't lose sight of the "personal touch."
1. Trellus sends real-time text message notifications about a driver's whereabouts and allows customers to communicate directly with drivers for contactless delivery.
Search "contactless delivery" on popular forums like Twitter and you'll find a host of complaints that stem from two problems: lack of transparency and lack of driver communication.
Trellus prioritizes communication at every stage of our delivery process. Our drivers pick up the package and are responsible for delivering it directly to the customer. After pickup, merchants and customers can track the package journey in real-time via mobile app. To ensure good customer service, the driver is available to communicate with the customer and sends photo proof of delivery to the merchant.
If customers provide their email to the merchant and the merchant uses it for the delivery, the customer receives an email notification with a photo that shows their order was delivered. The customer can then safely retrieve their package.
2. Our drivers mask up and are trained on contactless delivery best practices.
At the time of this writing, Trellus drivers are required to wear masks indoors during merchant interactions and when approaching a delivery destination, regardless of their vaccination status.
If a customer has asked to be contacted by phone upon delivery, our drivers are trained to remain socially distant and move safely away from any contact points (e.g., front door, front entrance) before calling. Trellus drivers are also trained to remain in close contact with our dispatchers who can communicate directly with local businesses on delivery status.
3. Trellus customers can bypass contactless delivery and choose to engage in face-to-face package hand-offs.
Some delivery companies dropped signature and identification rules for package deliveries to protect customers and workers during the pandemic, but a survey from logistics technology provider Anyline showed that 3 out of 4 respondents agree or strongly agree that high-value packages, including perishables, should require identity confirmation by the delivery company. Additionally, 7 out of 10 respondents agree or strongly agree that restricted packages, like alcohol, should require identity confirmation of the recipient.
Trellus leaves the extent of interaction to the customer's discretion. Those customers who still want to remain socially distant while confirming identification can do so, as Trellus drivers have the technology to safely scan drivers license barcodes, through screens and glass barriers.
Trellus is here to help your small business stay connected to local customers this winter season! Learn more about Trellus for businesses on our website, or reach out to us directly at 1-833-LocalLI.