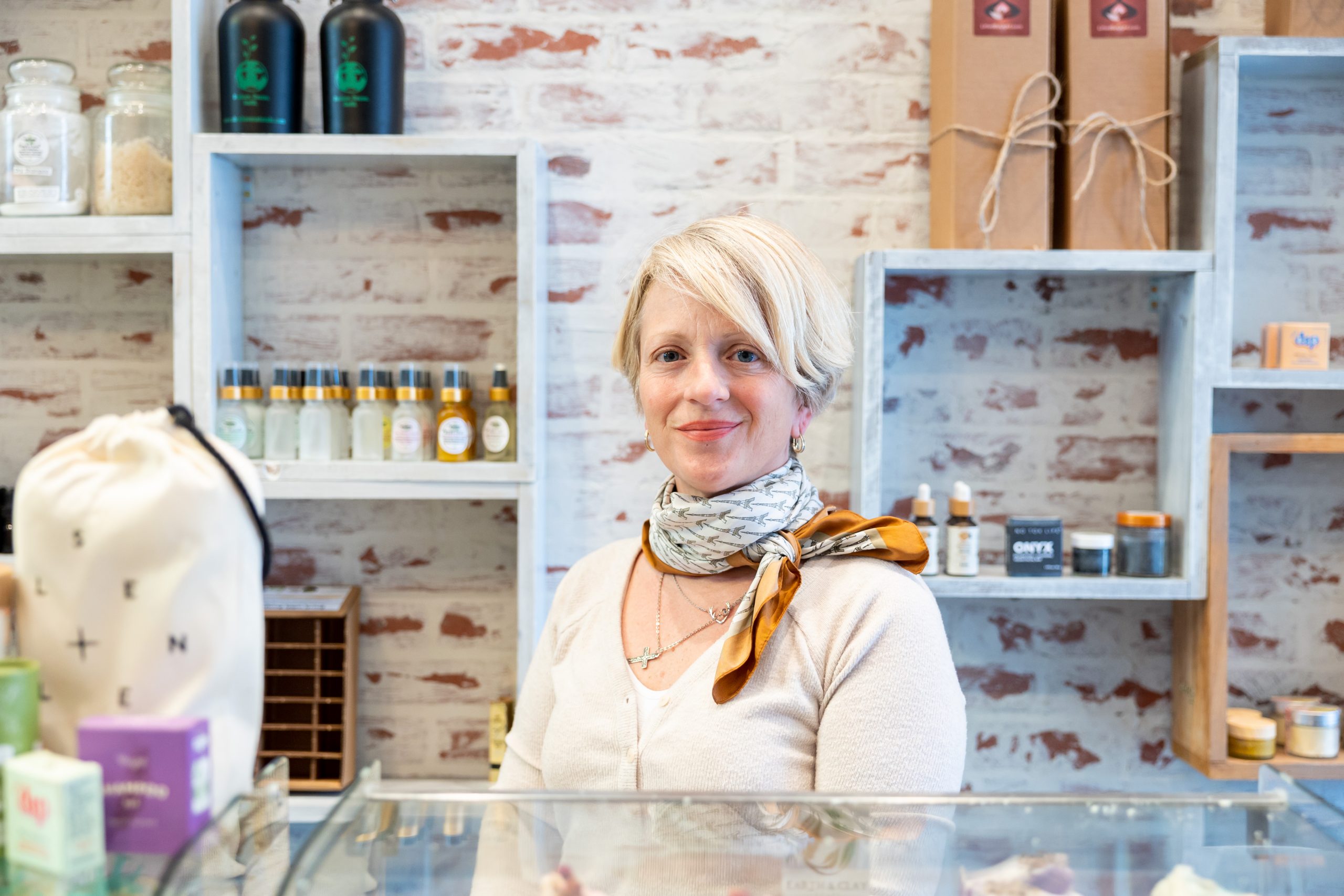 Jeanine 'Bean' Longo behind the counter of O'beehave Naturals Refill Bar located at 541 Main St., Islip, NY
Photos by: Maria Rose Photography
There is currently no way to deliver household consumables, i.e., soaps, shampoos, conditioners, in a truly sustainable way. Reusable aluminum containers that are shipped around the country in cardboard boxes negate positive environmental impacts. However, consumers can bring a reusable container to a local "eco depot" where they can fill up on a product that's also better for their hair and skin. That's the eco-proposition of Trellus merchant partner Jeanine 'Bean' Longo, owner of O'beehave Naturals in Islip. 
For Bean, Earth Day is really an Earth Month celebration. And this month, she's excited about her collaboration with Trellus Same-Day Local Delivery & Marketplace, a business and service she views as naturally sustainable.
"I think sustainability is about keeping things local and creating systems to serve your local residents. Trellus was founded here. It's servicing the local community [on Long Island]. I think you're already green, just because of your target audience and the service you're trying to provide," she tells our team during a visit. "The fact that I can say, 'You know what? I've always wanted to try a bakery in Hicksville' and I can order from Trellus and get that delivered — I think that's invaluable. And that, to me, is sustainable because it's local. I think it's amazing." 
Like the blend of Universal Wash 'flavors' she creates at the O'beehave Naturals Refill Bar, Bean herself is a special blend of talent. A marketer and hairdresser by trade, her life experiences ignited her passion for eco-friendly, clean products. 
Originally from Babylon Village, Bean earned her undergraduate degree in marketing from SUNY Oswego. Finding her post-college job "too corporate," she returned to school for graduate studies in art education. One day, she took a hairdressing class just for fun and fell in love with it. From there, she attended beauty school and even moved to Minnesota to study with the founder of the Aveda cosmetics company. She eventually moved back East and opened up her first salon in Williamsburg, Brooklyn. 
As the story goes, O'beehave Naturals began as a small artisan product line specifically formulated for clients of The Beehive Salon in Brooklyn. Bean spent years working with chemically based products in the salon, feeling as though she was putting poison on her clients' heads and throwing plastic bottles in a landfill. "I knew I could do it better, and so I did," she states on her website. 
She began exploring all-natural products and synced up with a chemist who helped her create two formulas. She also tinkered with a keg system to dispense these new liquids. All the while, she saved her hairdressing tip money to self-fund the concept.
"I realized in my salons that I sold over 300 times the amount of shampoo in an eight month span because everyone asked, 'What's on tap?'" she recalls. She knew she was onto something, so she sold her last salon in Islip in 2016 and went all-in on the O'beehave Naturals Refill Bar experience. 
(left) The O'Beehave Naturals Refill Bar with 14 'flavors' on tap. 
(right) O'beehave also sells products from other local artisans, such as Earth & Clay Soaps.

O'beehave's eco-mission is two-fold: eliminate plastic waste by encouraging customers to refill reusable containers and create game-changing, healthy products for hair and skin.
Bean describes her Universal Washes & Conditioners (universal for hair, face, body, and beard) as made from 100% medicinal grade essential oils with no added fragrance and with formulas based on the science of hair and skin. She works with a lab that helps her mix the ingredients, which are domestically sourced. Some flavors come as-is, while others she adds essential oils to. Other O'Beehave product lines include Balms, Butters, Scrubs & Lotions and Serums & Mists.
While she left behind the corporate marketing world years ago, Bean employs her natural creativity and a deep understanding of what makes customers excited. Case in point: the refill bar stretches down the left wall of her shop with 14 taps and the setup, complete with aesthetically pleasing glass bottles, is highly visible from the street. Customers can refill their own bottles from home and Bean can treat them to a special blend.
"I absolutely adore being on any Main Street, USA. It is the greatest thing in the world," Bean says of her store. "You just get to meet your community. You get every person under the sun you can possibly imagine. And they want to know who you are. They're curious, they're excited. And people are really happy to see businesses still open on Main Street." 
Bean is also skilled at getting the word out beyond Main Street, Islip. She worked as a hairdresser on the set of a Clinton Kelly special and was able to place O'beehave products in the event swag bag. She was also a finalist for Shark Tank, and while she wasn't picked for screen, she went through the entire production process. Additionally, O'beehave Naturals has expanded to select retailers, including Montauk Salt Cave in Montauk, NY, and Shear Wisdom, a hair salon in Littleton, CO.
As a next move, she's looking into a subscription service featuring her Bumble Boxes, which essentially serve as product samplers. She believes Trellus can help with both local delivery and marketing. She's especially looking forward to the launch of Trellus' direct-to-consumer Marketplace, and envisions a menu that allows customers to choose flavors and other household products beyond the O'beehave line, which she sells in-store. 
Looking to the future of the retail experience, Bean sees O'beehave becoming even more interactive, where customers can press a button, perhaps on a screen, and learn more about ingredient sourcing. Her overriding goal is to get 10,000 homes across Long Island to commit to zero-waste and realize they can save money in the long run if they buy eco-friendly products in bulk.

O'Beehave Naturals' Sustainability Starter Pack, curated with the goal of helping Long Island households convert to zero-waste.
Sustainability Advice for Small Businesses from O'beehave Naturals
Bean is all for businesses promoting a sustainable message, but she cautions against greenwashing, which happens when companies claim to be environmentally conscious for marketing purposes but don't actually make any notable sustainability initiatives. She finds that too many consumers take "going green" at face value, without understanding the processes behind business operations. She believes the responsibility is on the corporation to actually do the work to become more sustainable. 
She recommends businesses, including Trellus, not "put the cart before the horse." They need to operate long enough to learn what their waste is and how to become more sustainable. "You have to see where the issues are first," she advises, "and then you have to reach out to your local municipalities and make sure that works." 
Bean embraces her role as a local resource for individuals and small businesses trying to become more sustainable. 
"Sustainability is exactly what we're trying to model," she says. "O'beehave Naturals is a local company reaching out to residents and helping them become more sustainable. There's so much work to be done. It's incredible."


Learn more about O'beehave Naturals at www.obeehavenaturals.com and ask about Same-Day Delivery by Trellus.