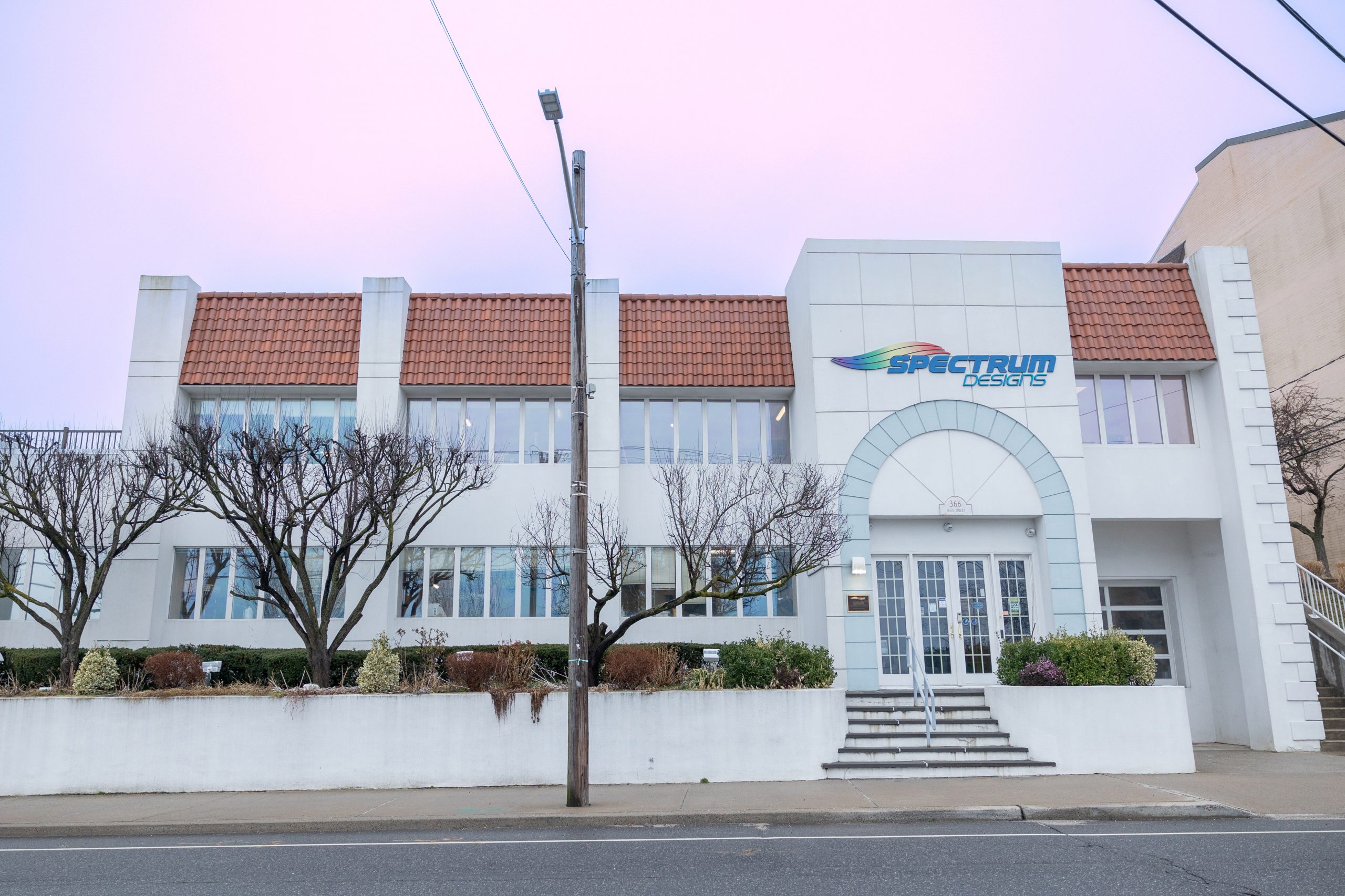 Spectrum Designs Headquarters, 366 Main St. Port Washington, NY
Photos by: Maria Rose Photography
The word "disruption" is not typically associated with the autism community, as individuals with Autism Spectrum Disorder (ASD) are known to thrive on routine and predictability. However, at Spectrum Designs in Port Washington, NY, market disruption has led to remarkable opportunities for employees on the Autism Spectrum.
Spectrum Designs Foundation is a 501(c)(3) organization founded to create meaningful and inclusive employment opportunities for people on the Autism Spectrum. The nonprofit began more than 10 years ago with a T-shirt business and has since expanded to Spectrum Bakes packaged treats as well as Spectrum Suds boutique laundry and dry cleaning service. Each vertical has predictable processes that all have a clearly defined beginning, middle, and end, resulting in a finished revenue-generating product.
At Spectrum, providing "real work" is key, and the organization needs real business solutions to operate efficiently and reach new audiences. That's why Spectrum Bakes has signed up for Trellus Same-Day Local Delivery, recognizing the opportunity to get more baked goods into the hands of more local customers.  
However, before telling that story, it's important to know how Spectrum came about and why it's one of the most groundbreaking autism employment initiatives in the United States. It's a story that should not only bring awareness of Spectrum in the Long Island community, but acceptance of this thriving local employer. To know Spectrum is to recognize why Autism Awareness Month, celebrated in April, is now referred to as Autism Acceptance Month.
As Christopher Banks, President and CEO of The Autism Society of America, explains in an interview, "Awareness is knowing that somebody has autism. Acceptance is when you include (a person with autism) in your activities. Help (them) to develop in that community and get that sense of connection to other people."
Taking On Autism Employment 
Like many great businesses, Spectrum Designs began as a solution to a problem, specifically an employment problem among young adults on the Autism Spectrum. The statistics, as cited by Co-founder and CEO Patrick Bardsley in an op-ed, are staggering. In the U.S., one in 59 people are on the Autism Spectrum, yet 70 to 90 percent of adults with autism are jobless or underemployed. In New York alone, the unemployment rate for people with disabilities is 67 percent. 
Patrick co-founded Spectrum Designs in 2011 with Stella Spanakos and Nicole Sugrue, mothers of young adults on the Autism Spectrum. He had arrived on Long Island by way of the UK, through the Camp Huntington residential program for children and young adults with special learning and developmental needs. In interviews, Patrick admits he had "zero knowledge" of working with a neurodiverse population and suddenly found himself as the one-on-one camp counselor for Stella's son Nicholas, who is non-verbal. Patrick's patience and natural communication skills enabled him to form a special bond with Nicholas.
The sudden passing of Stella's husband Paul C. Kitsos in 2010 was the catalyst for her vision of The Nicholas Center for Autism, along with partner nonprofit Spectrum Designs Foundation. Stella asked Patrick, a recent college graduate, if he would help lead the foundation. He enrolled at LIU Post for a Masters of Education with a concentration in their new program for autism. 
The newly formed leadership team had to answer a pressing question: what jobs were they creating, exactly? A Google search for recession-proof enterprises led them to the T-shirt business. Stella moved quickly to winterize a barn in her backyard and secure necessary equipment, and Spectrum Designs began with a skeleton crew that included Stella's son, Nicholas, and Nicole's son, Adem.
During those early days of Spectrum Designs, Patrick kept in touch with childhood friend Tim Howe back in the UK. At the time, Tim felt stuck in an unfulfilling corporate job and heard about the amazing nonprofit his friend Pat was building. In 2013, he accepted Patrick's invitation to join him in New York and help in any way he could.    
"I fell in love with it," Tim says, describing how he took on the role of Chief Operating Officer. "I realized if I work here, I can do very serious business 'stuff' and very serious financial 'stuff.' And then I can walk out to the floor and ask employees, 'What's Nintendo coming out with next?'" 
As much fun as he has in the day-to-day, Tim takes the overriding gravity of his role – providing jobs to young adults who were told they would never work – very seriously. He and his team are executing what he calls "stressful work with tight deadlines for stratospherically large clients." He references a recent contract designing major league sports apparel.
Spectrum Designs COO Tim Howe Shares a laugh with Trellus CTO JR Jensen.
Tim uses the phrase "and also" to describe Spectrum's business model. They are a business and also a nonprofit dedicated to employing young adults on the Autism Spectrum. 
"This is the way Pat always envisioned it," Tim says. "If we could make ourselves worthy of asking, 'Can we have your business?', we'd earn it and we'd keep it. That's a whole different story for people… We're trying to compete on the terms of the industry that we're in, so that we can make our social mission 'and also'. If you can make that the 'knockout punch,' then your message is so compelling that people can't ignore it."


The message was received loud and clear, as customers figuratively picked up megaphones and shouted about Spectrum from their rooftops. From 2013 leading up to the pandemic, Spectrum saw 80 percent year-over-year growth, which Tim calls "virtually unheard of" in the promotional products industry. A huge component of this growth was the adoption of DTG (direct-to-garment) machinery. Spectrum continues to invest in new equipment and today, a business that started in a barn making two shirts every 15 minutes has the capacity to produce 2,500 shirts every hour. 
Another pivotal move came in 2016, when Spectrum Designs joined Promotional Products Association International (PPAI), forming supplier relationships and becoming a one-stop-shop for branded merchandise, including frisbees, lanyards, pens and much more. Today, 20 percent of Spectrum's gross sales are from these promotional items. 
2016 also saw the launch of affiliate businesses, Spectrum Bakes and Spectrum Suds. Today, Spectrum Designs Foundation is operationally self-sustaining through sales, allowing all fundraising proceeds to go to expansion and advancement. One such initiative is Spectrum's expansion to Pleasantville, NY, in 2020. The new building in Westchester County runs entirely on renewable energy and recently graduated their first screen printing class through the New York State Department of Labor Certification Program. 
Spectrum's success story and replicable business model have garnered national attention from thought leaders in autism employment. 
"If you look at the United States, I'd put [Spectrum] as one of the top projects overall in terms of an autism-focused business – a business focused on generating a product but also employing, specifically, people on the Autism Spectrum," said Michael Bernick, former director of California's labor development and a creator of the Autism Job Club, as quoted in "This Business of Autism," a 2018 documentary film that tells the Spectrum story. 
For Tim, Spectrum's success comes down to identifying the superpowers of people who have been underestimated their whole lives but have so much to contribute. "For me, that's one of the most fulfilling parts of working at Spectrum and why I feel like I'll never work anywhere else. I love to see people achieve that potential," he says. 
Real Work Meets Real Aspirations
It's an overcast day in early spring when Team Trellus visits Spectrum Designs' 7,500-sq.-ft. Headquarters at 366 Main St. in Port Washington. The weather outside might be dreary, but inside we find a well-lit workspace with lovely views of Manhasset Bay. The whirring of screen printing machinery fills the main lower level. Upstairs, the staff is busy with post-production and quality assurance, led by Head of Embroidery and DTG Alex Panes, who has 25 years' experience in the garment industry. 
At Spectrum, everyone, including non-verbal employees, has a job to do and everyone earns at least minimum wage. Working with their single agency partner, The Nicholas Center, Spectrum provides vocational training and work readiness skills.
(Left) Lead Production Assistants Josh Mirsky and Jeremy Duggan prepare a screen print.
(Right) Head of Embroidery and DTG Alex Panes leads the post-production workflow.
"A job coach may be assigned from one to four people depending on need," says Jill Feuer Wisner, Spectrum's Sales Development Specialist. "If an employee has an issue or someone doesn't like what they're working on, they can be transferred to another task. Without the partnership, it would be really difficult to coordinate." 
The Nicholas Center's onsite job coaching also ensures that all staff members are reaching their personal goals, which can include promotions. Whenever possible, Spectrum promotes from within. Some employees with Autism Spectrum diagnoses are full-time with benefits and train other employees. 
One of those employees is Josh Mirsky, Lead Production Assistant, who has his own podcast, Sounds Like Autism, and serves on the New York State Autism Spectrum Disorders Advisory Board. "The environment is great, the people are great, and the culture is great," he says about his employer Spectrum.
In 2019, Josh presented at TEDxFarmingdale alongside his podcast co-host, Dave Thompson, Director of Workforce Development at The Nicholas Center. "Asking to be included isn't asking for a favor," Josh told the audience during his talk, Be Selfish: Embrace Neurodiversity. "Asking to be included is giving an able group of individuals the ability to go from being dependent on the state to being taxpayers."  
The neurodiverse workforce at Spectrum has set new benchmarks for what an integrated business looks like. Using the concept of a visual workspace, Spectrum can show each step of a process by leveraging photos and videos as training tools. Task assignments are clearly labeled with easy-to-remember workstation names, i.e. Octopus Station, along with visuals and markers on the floor. Additionally, a virtual reality tour shows employees what it's like to work at Spectrum prior to their first day. The interview process is also more hands-on and includes job shadowing. 
The lesson of Spectrum's visual workspace, Tim explains, is that other businesses can adopt these practices without changing too much of their infrastructure. Everyone with autism has different challenges and different strengths, but there is one common thread: a love of structure and routine that makes them highly effective at their assigned tasks. 
Wrapping up our time on the screen printing floor, we ask Lead Production Assistant Spencer Pusey why it's important to employ neurodiverse people. He pauses for a moment to give what he calls a "poetic response." 
"If all the crayons in the box were red," he says, "wouldn't you want other colors to make a beautiful rainbow?"
A Recipe for Success
From the Spectrum main building, we walk down Main Street to a 500-sq.-ft property known as 'The House.' This location, the first major purchase of The Nicholas Center, was the previous home of Spectrum Designs, and now houses Spectrum Bakes and Spectrum Suds. 
Here, we connect with Enterprise Director Deana Nissen who introduces us to Enterprise Assistant Kelli Fisher, Spectrum Bakes' first full-time hire. One of Kelli's creations is the Salted Chocolate Sunflower Butter 'Giving Bar,' featured in Spectrum Bakes' "Little Box of Goodies." It's one of the delicious granola bar flavors packaged along with chocolate-covered Oreos, granola bites, and pretzel twists. 
"It was hard finding a job. Restaurants are very stressful, and it was too stressful for me. I didn't really find anywhere I enjoyed working," says Kelli, who holds an Associate Degree in Culinary Arts from Johnson & Wales University and is on the Autism Spectrum. "I wanted to also work with people on the Spectrum and be a positive influence because I've grown a lot since I was diagnosed when I was 14. I love being able to incorporate both things."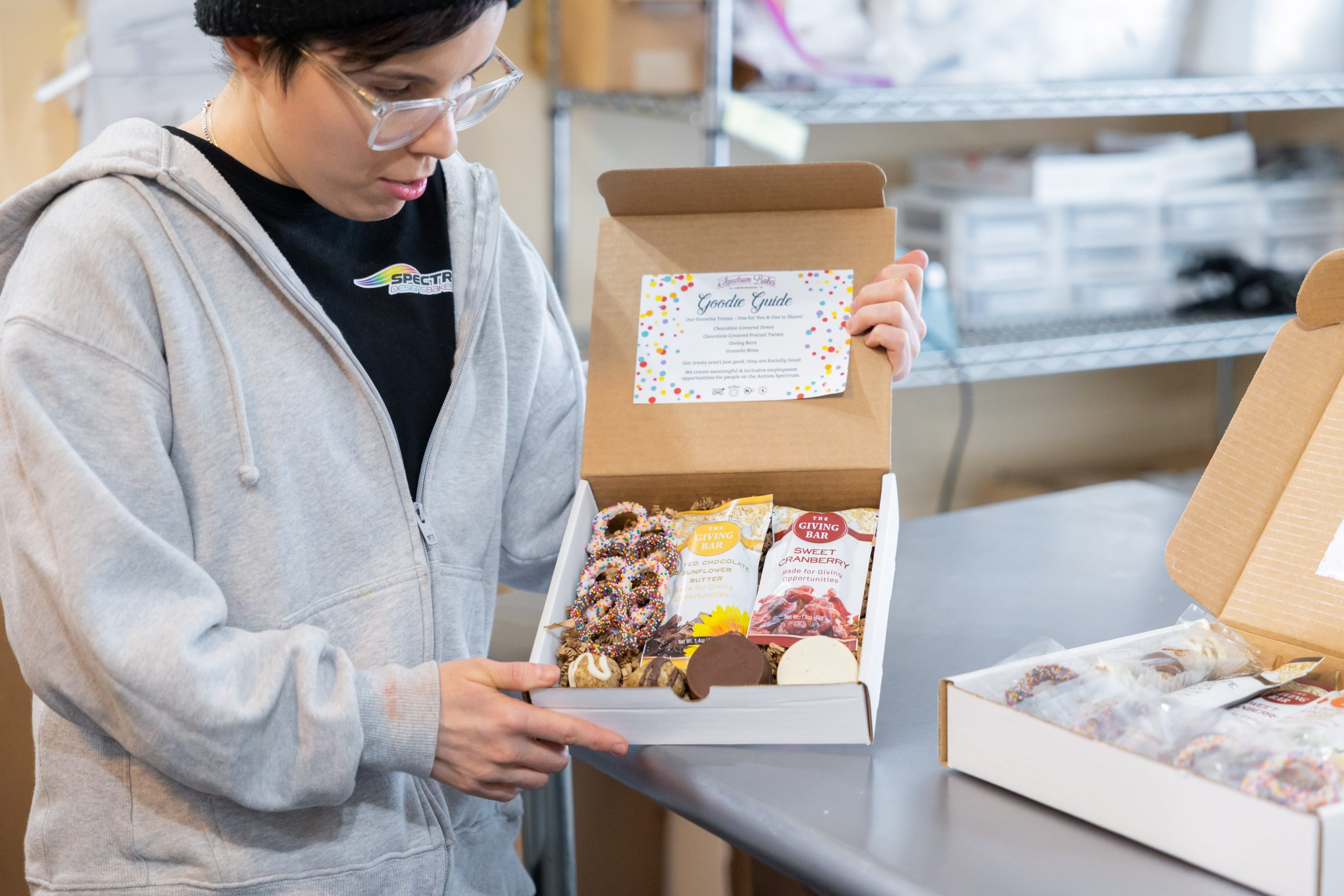 Spectrum Bakes Enterprise Assistant Kelli Fisher shows her latest creations for "The Mini Box of Goodies."
Since its 2015 founding, Spectrum Bakes has grown every year by at least 100 percent, Deana tells us. The business bakes everything by hand and doesn't aim to compete with mass-produced consumer brands. Still, they're able to handle large corporate orders, wedding favors, and private-label accounts. At the time of our visit, the operation was planning to move into a larger kitchen with a storefront. 
Spectrum Bakes' adoption of the Trellus platform is well-timed for reaching a wider audience for growth. "I think Trellus is a great option for marketing and for convenience," Deana says. "Who doesn't want same-day shipping? It gives us an opportunity to be in the game, and we're definitely going to market that for last-minute gifts." 
With Spectrum Bakes in a new location, Spectrum Suds, the laundry service that occupies the back half of the first floor, will be able to expand into the front of The House and increase their intake. Summarizing the growth potential of the Suds business, Deana adds, "Quality comes first. If there's ever an issue, the buck stops here. We have a good rapport with our customers. It's becoming a very big business." 
COO Tim Howe summarizes the Spectrum business model succinctly as "principled business meets social entrepreneurship." He adds, "Combining those two factors means there's really no cap on how big or how fast you can grow." 


Employee Jason Chen prepares the next load of customer laundry at Spectrum Suds. 
Building a Community Beyond Autism 
2020 presented another period of great innovation at Spectrum Designs Foundation, but this time the change wasn't planned for. The COVID pandemic led to some "scary conversations" about the sustainability of Spectrum, Tim explains, but Spectrum's leadership team resolved to keep everyone on payroll and forge ahead. 
Already a beacon for the Autism Community, Spectrum's enterprises became more connected to their local North Shore community than ever before. Spectrum Suds picked up and washed the clothes of healthcare and frontline workers free of charge, while Bakes sent care packages to healthcare workers. At first deemed non-essential, Spectrum Designs pivoted and leveraged overseas supplier relationships to obtain PPE (personal protective equipment), which they sold at just a low markup to cover costs. They also printed and shipped 38,000 "New York Tough" posters, an initiative through the New York Governor's Office, throughout the U.S. and internationally.
For Tim, one of the biggest lessons of the pandemic was the friction it created and how it forced many businesses to evolve, especially when it comes to technology.
"If there isn't a topic you're discussing that makes you a little uncomfortable or scared because the technology is like 'witchcraft,' then you're not pushing fast enough to keep up with the times. Society is going to lap you – it's not just going to overtake you," he emphasizes. "It's going to lap you and you can get left behind." 
Disruption is a "massive part" of Spectrum's identity and they push hard to be at the cutting-edge of technology, with staff and employees learning new machinery and software together. 
Tim recognizes a disruptive, future-focused technology in Trellus, which he believes is capable of changing the small business landscape on Long Island. He had the opportunity to dive deeper into the technology with Trellus Co-founder and Chief Technology Officer JR Jensen, and learned how the Trellus delivery platform integrates through Shopify on the Spectrum Bakes website. 
Additionally, he loves how Trellus drivers earn 80 percent of the delivery fee and are eligible for base pay. "It's so clearly what the future should look like," Tim says with excitement. "That's going to make some people uncomfortable, and I'm going to love it!"
He believes the Trellus platform will help Spectrum discover and connect with other businesses on Long Island to help form strategic partnerships. One of Spectrum's local business partners is Men on the Move in Woodbury, also a Trellus merchant partner. Men on the Move is led by President John Beyer, who serves on the board of Spectrum Designs Foundation and whose son Gregory works at Spectrum. Referencing the connection, Tim sees Trellus as an "intermediary," connecting local businesses to transact, whether in forming local partnerships or delivering a package same-day, "super-efficiently and cost-effectively." 
"Everything about Trellus feels like planting a flag and saying, 'This is our community. This is who we are together and this is what we could be,'" he says. "Spectrum has the same goals. We're forward-looking to society and autism employment, to how we think it should be." 
To learn more about Spectrum Designs Foundation, visit www.spectrumdesigns.org, and to order directly from Spectrum Bakes offering Same-Day Delivery by Trellus, visit www.spectrumbakes.org.